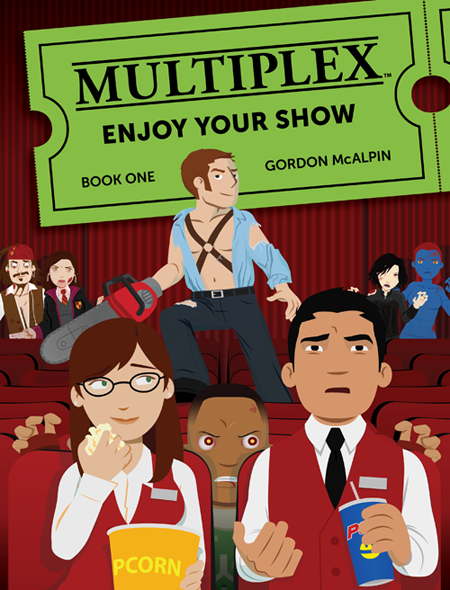 About the Cartoonist
Gordon McAlpin lives in St. Paul, Minnesota, with his girlfriend Karyn and their two cats, Punk and Sydney. In addition to working on Multiplex, he is pursuing a Master of Fine Arts degree in Graphic Design (Interactive Design track) at the University of Minnesota. While he has never worked at a movie theater, he has had several equally terrible jobs.
Multiplex:
Enjoy Your Show
BOOK ONE
Paperback: 224 pages
Pub. Date: September 2010
Age Range: 16 and up
Dimensions: 8" x 10.5"
Publisher: Chase Sequence Co.
---
Welcome to the Multiplex 10 Cinemas!
Multiplex is an online comic about a low-brow movie buff Kurt and a high-brow film snob Jason, who wage a never-ending battle against the terrible movies and even worse customers infesting their movie theater.
Multiplex: Enjoy Your Show collects chapters 1–5 (strips #1–102 from the archives), plus a 12-page Prequel story EXCLUSIVE to the print collection and another 30+ pages of new material, character bios, guest strips and more!
CURRENTLY
OUT OF PRINT
You can also:
• Download the iPhone app
• Read from the beginning online