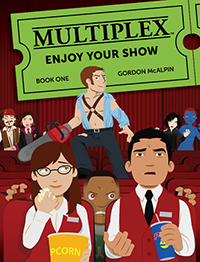 Multiplex: Enjoy Your Show
Book One
Chapters 1–5 (July 2005–November 2006)
Welcome to the Multiplex 10 Cinemas! Book One collects the first 102 strips from the archives. Meet Kurt, Jason, Becky, and the rest of the Multiplex gang.
Learn more about the collected editions!
July 2005–November 2005
We meet the main cast.
December 2005–February 2006
Becky gets a make-over. Jason realizes he likes Becky now.
March 2006–June 2006
Devi starts working at the theater.
June 2006–August 2006
Gretchen joins the Multiplex. Devi and Jason start dating.
August 2006–November 2006
Devi leaves for school.