Notes from the Manager
Related Strips: #975: A Hard Bargain; #1039: The Negotiator
Like this week, there will be three updates next week — possibly more. I'm not sure just yet.
I should point out, because people like to correct me about things, that Red/Reed is wrong in panel 2. Being fired and having your hours drop to zero aren't exactly the same thing. This will come up next week.
Anyway. As of today, there is only one week left to fun Multiplex: The Revenge on Kickstarter, and right now… things aren't looking that good. But there should be an uptick in pledges as we get into the last few days, so it's not a lost cause just yet! Please consider supporting the project today!
Remember, if we don't reach the goal, I get none of the funds. So if you love Multiplex and would like to see more of it in the book (or eBook) collections, please consider helping fund the book series. There are reward levels for just the eBook collections, just the book, or Books Two and Three if you don't already have that one — every dollar helps!
Multiplex News & Updates
Bonus comics, drawings, and
other awesome stuff
Saturday, May 27, 2017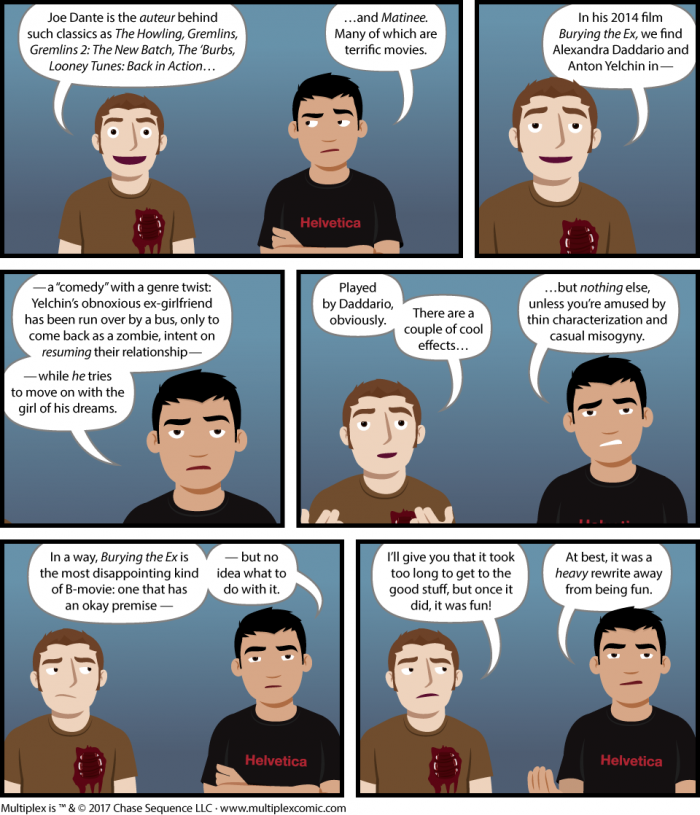 Hello, Multiplex readers!
A quick update on what's going on with everything Multiplex-related:
The storyboards for the Multiplex 10 animated short are DONE. Rough, but done. Pre-production continues for the next few weeks with the construction/editing/etc. of the first rough animatic and design/illustration work.
Although the Kickstarter project has ended, you can still support the project (or my comics work) by becoming a Patreon patron or making a one-time PayPal donation.
Multiplex: The Revenge (Book Three) is being shipped out to Kickstarter backers and will be available for purchase to everyone else on June 14th — as will the Multiplex mini-posters set.
I will be at Wizard World Philadelphia (Friday–Sunday only) with copies of Book Three, so if you're in that neck of the woods, you can get it a little early. :)
Multiplex Movie Reviews like this one, bonus comics from Multiplex: The Best Laid Plans (Book Four), and other stuff are being exclusively posted to Patreon a couple of times a week. Er, except for this one, obviously.
Other Recent Posts