Notes from the Manager
There's been a bit of a fuss about Black Christmas -- not only because it's a Christmas horror movie, which is kind of retarded, because there have been plenty of those (including the original 1974 Black Christmas this new version is a remake of), but also because it opens on Christmas Day.
What I want to know is... so what?
How is this really more offensive than just any other blood and guts fest out there? I'm not a fan of the genre (although I must admit I enjoyed Nightmare on Elm Streets 1, 3, 4 and 5 as a teenager, because those films at least had a little imagination and some fun special effects), but shouldn't just the whole killing people thing be offensive enough to Christians, regardless of the fact that it's set on Christmas? Or have I just been blissfully unaware of the pro-Christian slasher flick genre all my life?
In more than one article I've read on the subject, they make special note that Christmas horror movies and other non-horror "anti-Christmas" films like Bad Santa never open on Christmas Day.
Well, no shit. It's not out of respect, folks. It's because by Christmas, people have already had their fill of Christmas: Christmas movies traditionally get a boost leading up to and on Christmas, drop a relatively normal amount for the next week, and then nosedive in January. (I'm basing this on a totally unscientific analysis of Christmas movies' weekly performances from the past several years at BoxOfficeMojo.com.)
By putting out a Christmas-themed horror movie on Christmas Day, I'm pretty sure the Weinsteins are either making a dumb move -- or, more likely, burying a film they know would bomb, while smartly going for broke at the same time, hoping for a huge opening week tally thanks to all the controversy this stunt release date has generated before it quietly disappears from theaters in three weeks.
I'd have done a strip about all this, if it wouldn't have been basically a rehash of the Da Vinci Code strip.
But wait! There's more!
Although Multiplex has ended, thanks to readers like you on Patreon, the Multiplex 10 will stay open for business! I'll be posting bonus comics from future print collections, Multiplex Movie Review strips, updates on the upcoming Multiplex 10 animated short, and, of course, other non-Multiplex stuff.
In addition to the warm, soothing feeling of being a patron of the arts, Patreon supporters get access to free Multiplex eBooks, sneak previews of upcoming comics and other behind the scenes peeks, sketch giveaways, and more!
Deleted Scenes Blog
Bonus comics, drawings,
movie trailers and more
Sunday, April 23, 2017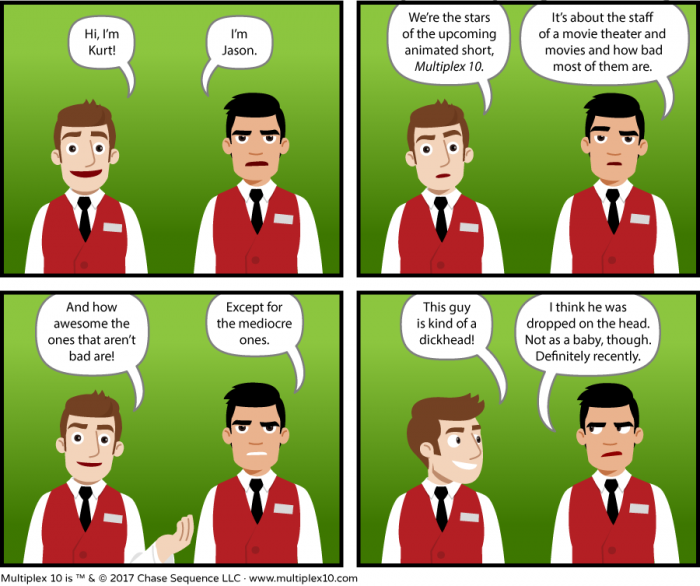 Hello! The Multiplex 10 Kickstarter project ends in just over 14 days. As of this writing, we are a little north of $12,000, so just over 80% of our base goal. Judging from my last two Kickstarters, we're doing very well. The final week should pick up considerably over this past week.
BUT don't forget that we still have a milestone goal of Jason reviewing every Harry Potter movie if we make that $15,000 baseline goal on/before Wednesday, April 26th, though! (Plus Fantastic Beasts if we make it on/before Monday, April 24th. But that seems kind of unlikely at this point.) I thought that was a fun premise… but it's up to the Gods of Kickstarter now.
I also officially added our first (and, at this point, only) STRETCH GOAL. At $20,000, we'll be able to do a few extra things:
Smoother, 4K animation
5.1 Surround Sound mix (courtesy sound designer Ian Vargo)
AND… a theatrical premiere at the Somerville Theatre here in Somerville, MA. (All backers at the Special Thanks level and up will get free admission… and, of course, transportation is not provided.)
Thanks so much for all your support. I'm exciting at how the Kickstarter project is coming together, and I can't wait to get started on the animated short. (Full time, I mean. I'm already working on it!)
Pledge your support today! If you haven't already!
Other Recent Posts