Notes from the Manager
Happy New Year!
The bad news is, the actual New Year's strip is going to be late.
The good news is, it's because the idea I had ballooned out of control and turned into a longer storyline which takes place on New Year's. Ordinarily one likes to conclude holiday-related storylines on the day in question, not begin them, but... whatever. I don't really plan things in advance too well.
Part one was posted on Sunday as a bonus strip, in case you missed it. Part two was this strip, of course, which introduces the Flickhead Video gang (three of whom have appeared before).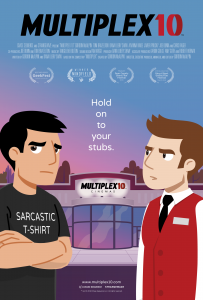 Multiplex 10 is here!
Although Multiplex 10 has ended, an animated prequel/reboot called Multiplex 10 was funded through Kickstarter in 2017 and is NOW AVAILABLE for rent or purchase on Vimeo On Demand, Amazon Video, and elsewhere! And an all-new, irregularly-updated Multiplex 10 web series (set after the short film) recently launched on YouTube! Learn more about the web series on the official Multiplex 10 website!
Stay up to date on all things Multiplex, Multiplex 10 and me (a.k.a. Gordon McAlpin) by subscribing to my newsletter!