Notes from the Manager
Those of you with Multiplex: Enjoy Your Show and Multiplex: There and Back Again may recognize the names Hilary, Katy, and Sanjay — but even then, I doubt it. They each appeared in a handful of strips that I added into the print books to help flesh out the size of the staff. I've said this many times, but a 10 theater movie theater would have approximately forty employees — and with the turnover in low-wage jobs, over the last ten years, there would have been dozens and dozens of employees that you've never met.
As a reminder, Book Three — a.k.a. Multiplex: The Revenge — has fallen behind schedule because of a too-big-to-refuse freelance project that then proceeded to nearly triple in size. So, thank you once again for you patience — particularly Kickstarter backers and Patreon patrons.
Multiplex News & Updates
Bonus comics, drawings, and
other awesome stuff
Saturday, May 27, 2017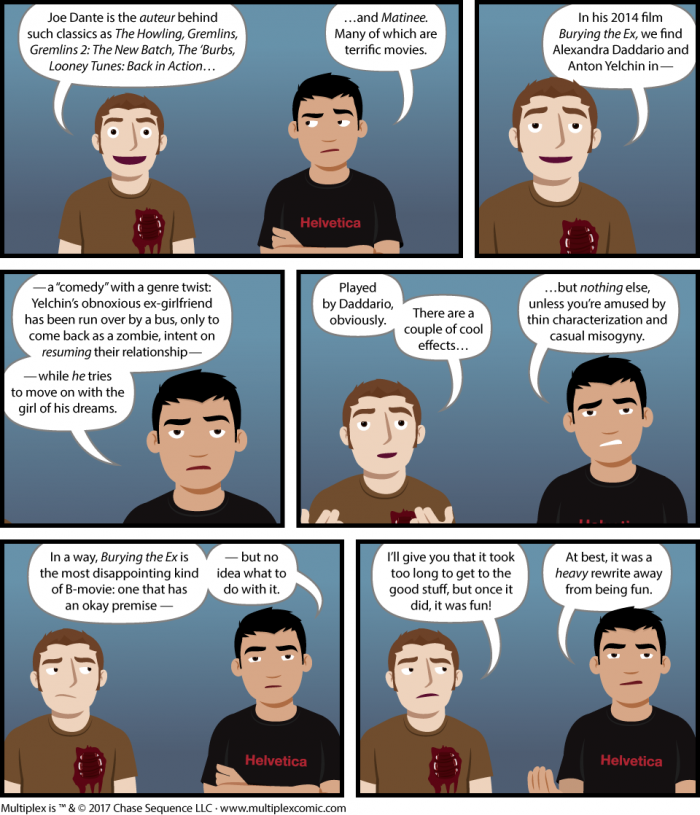 Hello, Multiplex readers!
A quick update on what's going on with everything Multiplex-related:
The storyboards for the Multiplex 10 animated short are DONE. Rough, but done. Pre-production continues for the next few weeks with the construction/editing/etc. of the first rough animatic and design/illustration work.
Although the Kickstarter project has ended, you can still support the project (or my comics work) by becoming a Patreon patron or making a one-time PayPal donation.
Multiplex: The Revenge (Book Three) is being shipped out to Kickstarter backers and will be available for purchase to everyone else on June 14th — as will the Multiplex mini-posters set.
I will be at Wizard World Philadelphia (Friday–Sunday only) with copies of Book Three, so if you're in that neck of the woods, you can get it a little early. :)
Multiplex Movie Reviews like this one, bonus comics from Multiplex: The Best Laid Plans (Book Four), and other stuff are being exclusively posted to Patreon a couple of times a week. Er, except for this one, obviously.
Other Recent Posts