Notes from the Manager
So I saw Zodiac, and I really liked it. In fact, I like it more and more as I keep turning it over and over in my head. I'm tempted to see it again while it's still in the theaters, just to take it in on a technical level, since I was "distracted" by having to follow the entire, fascinating story this first time around.
Phenomenal cast, terrifically (and atypically) understated direction from David Fincher, and -- in my apparently somewhat unusual opinion -- not a second wasted in its 2:40 running time. I'd talk about it a bit more here, but I think we're going to be talking about Zodiac on the Triple Feature talkcast tonight... I should probably talk to the boys about it.
EDIT: Incidentally, for those in the dark, the line is from Dirty Harry, which was very loosely based on the Zodiac murders. So the two films are two very very different approaches to more or less the same subject matter.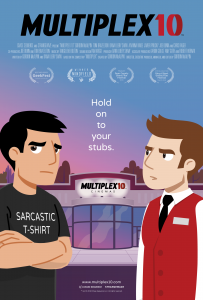 Multiplex 10 is here!
Although Multiplex 10 has ended, an animated prequel/reboot called Multiplex 10 was funded through Kickstarter in 2017 and is NOW AVAILABLE for rent or purchase on Vimeo On Demand, Amazon Video, and elsewhere! And an all-new, irregularly-updated Multiplex 10 web series (set after the short film) recently launched on YouTube! Learn more about the web series on the official Multiplex 10 website!
Stay up to date on all things Multiplex, Multiplex 10 and me (a.k.a. Gordon McAlpin) by subscribing to my newsletter!