SPOILER WARNING! This strip contains minor spoilers for No Country for Old Men.
#187: Straight to Breakfast
December 8, 2007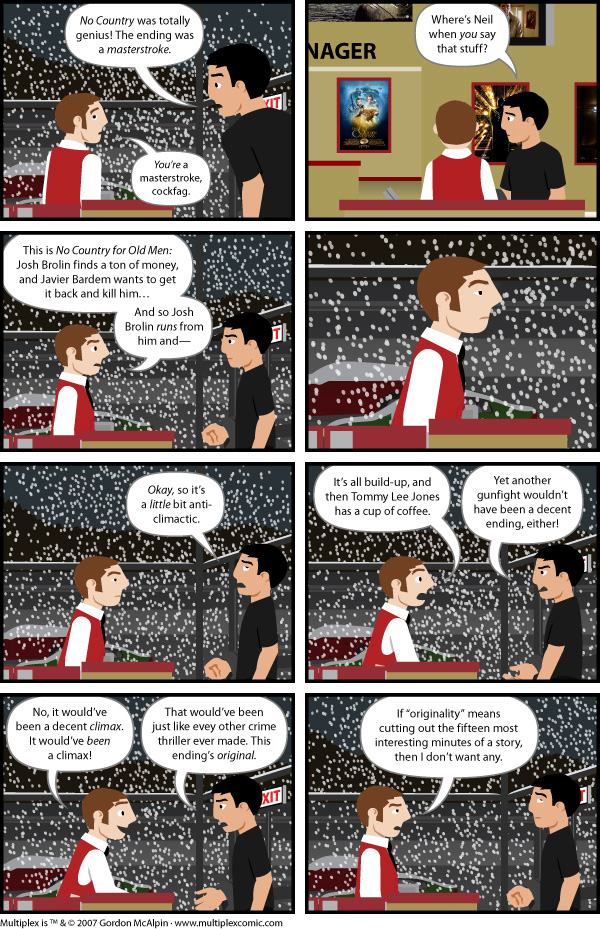 Notes from the Manager
Bonus strip! I wanted to wrap up this three-part non-epic to fit a different strip in on Monday.
Check out the somewhat reworked Cast page. It includes all the old staff bio pages, plus short histories for each of the characters and links to their first appearance and key strips in their past. If you ever forget who's who, just look them up! (Major characters will still get staff bio pages when I feel they need one, but I knew enough people have had trouble keeping all the Multiplex characters straight and thought this might help.)
Don't forget to vote! The Buzzcomix vote incentive shows you a bit of the December 2007 edition of the Multiplex Examiner. It's not a strip, exactly, just kind of a little extra thing. The current TopWebComics vote incentive is from the print collection I'm working on. It takes place in mid-July, 2005. It's a four-panel strip about The Island.
Lastly, it looks like an interview with me by Newsarama's Chris Arrant has been posted to their site. Welcome, new readers! Start from the beginning (please forgive the dodgy art in the first year or so), glance at the Cast pages, and check out the forums while you're here!
Affiliate Link: Shop at Amazon.com and support Multiplex
Bonus comics, drawings, and
movie trailers from Gordon