#216: Back Where You Belong
March 20, 2008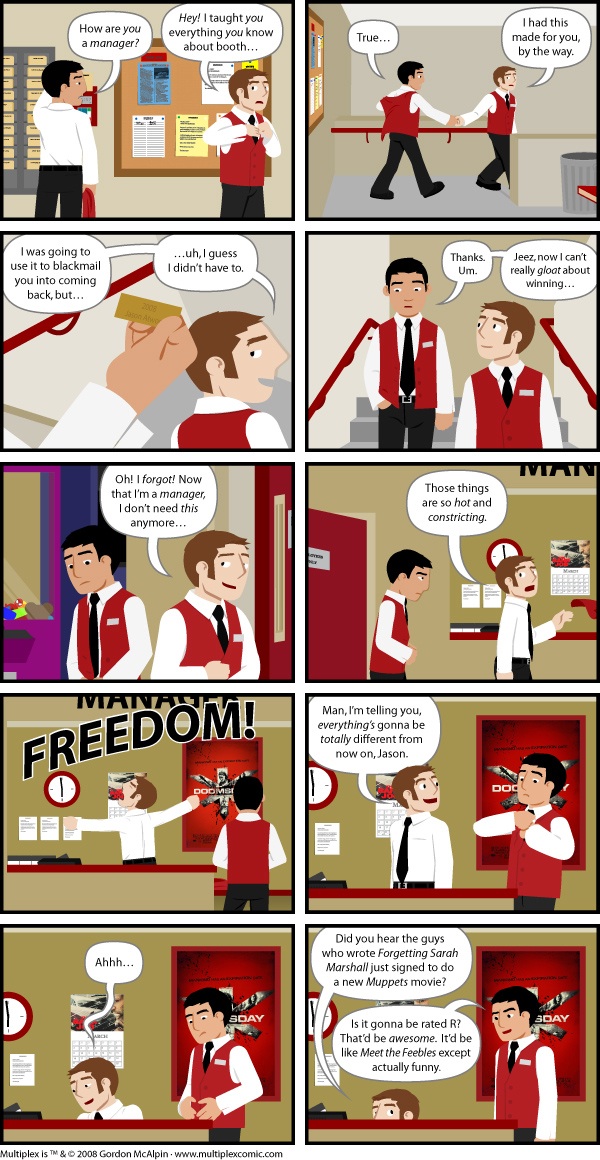 Notes from the Manager
Okay. If you don't know what Forgetting Sarah Marshall is, check out trailer here:
If you don't know what Peter Jackson's Meet the Feebles is, watch the beginning over at YouTube.
(If you actually think that movie is funny… I disagree.)
If you don't get the real joke (sort of) in the strip — last three panels, really — then you need to read through the archives. (And that's not even all of them.)
And, finally, if you think the title is a .38 Special reference, you're right.
Whew.
Become a Multiplex patron
Multiplex is supported by Andrew Hathaway at Can't Stop the Movies, A Fan of Coherence, and readers like you via PATREON. Help keep the Multiplex 10 open for business by becoming a patron today!
Patron rewards include:
Free eBooks!
Multiplex Movie Reviews and other bonus comics
Character doodles!
Invites to Google Hangouts!
Sneak peeks at early and in-progress strips and artwork!
and MORE!
Deleted Scenes Blog
Bonus comics, drawings,
movie trailers and more
Saturday, November 22, 2014
A short experimental film I made for schoolz. (Mostly) shot in 240 fps slow motion on an iPhone 6. Edited with Final Cut Pro. There are a few shots I'd have liked to redo if I wasn't under the gun for a deadline (and hadn't run out of tea), but… oh well.
Other Recent Posts