SPOILER WARNING: This strip contains a minor spoiler for the new Indiana Jones movie.
#238: Daddy Issues All Over Again
May 29, 2008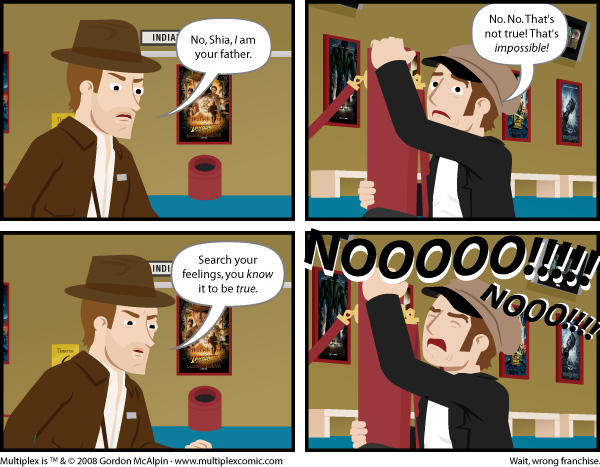 Notes from the Manager
Same spoiler as in the strip (highlight to read): I guess on the bright side, "Mutt" Williams (a.k.a. Henry Jones III, a.k.a. Shia LaBeouf) has a better relationship with his father than Luke Skywalker.
Become a Multiplex patron
Multiplex is supported in part by Andrew Hathaway at Can't Stop the Movies
and readers like you via PATREON.
Patron rewards include:
• A free eBook every month (or so)!
• Multiplex Movie Reviews and
other bonus comics
• Character doodles!
• Invites to Google Hangouts!
• Sneak peeks at early and in-progress
strips and artwork!
• and MORE!
Deleted Scenes Blog
Bonus comics, drawings,
movie trailers and more
Thursday, March 6, 2014
Be warned: this is really a three minute clip from the movie with a 1-minute trailer at the end. AND there is one or two spoilery things that you may not want to see, if you want to go into the theater with as close to a blank slate as possible.
However. If that doesn't bother you, it is pretty awesome. The action we see here is a lot of fun.
Captain America: The Winter Soldier stars Chris Evans, Scarlett Johansson, Sebastian Stan, Anthony Mackie, Cobie Smulders, Frank Grillo, Emily VanCamp, Hayley Atwell, Robert Redford and Samuel L. Jackson. It hits theaters on April 4, 2014.
Other Recent Posts