Notes from the Manager
So… yeah. #250, and the first (I think) completely self-contained strip in a rather long time, although it might help if you have even a passing familiarity with American Girl dolls (particularly the "Just Like You" line) and with the existence of the Kit Kittredge: An American Girl movie starring Abigal Breslin (in limited release now, opening nationwide on July 2nd). That being the case, if you're a boy and you don't get this strip, I wouldn't really stress out about it. Really.
EDIT (6/27/08): If only this ad could be up on this page all the time: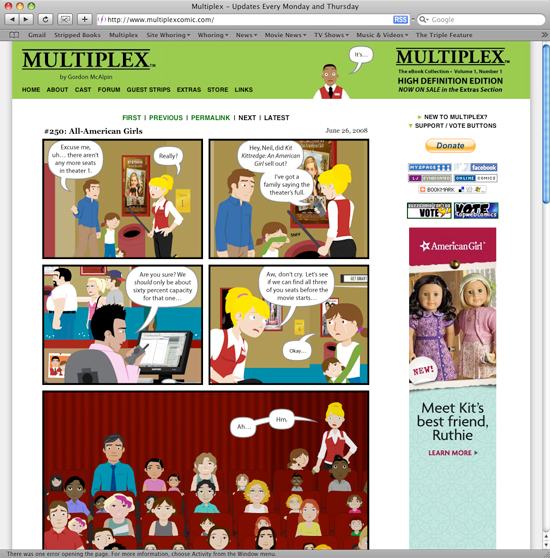 Anyway, so #250. It's not really a milestone, just a round number. As many of you know, there are a handful of other strips not in the archives, in the first Multiplex eBook and a one or two as-yet-uncollected ones from the upcoming second eBook (yes, I'm waaaaay behind, I know), so this is really not the 250th Multiplex strip.
The next real milestone for me will be the third anniversary, which is right around the corner, on July 10th — but I guess some people still think the round-numbers thing is pretty cool, so thank you for reading all the same.
By the way, despite my promise (to myself) that I won't be going to any comic book conventions until I have a frickin' comic book to sell, it turns out I will be appearing at this year's Wizard World Chicago after all — on Saturday (June 28) only. It's kind of an unoffical appearance, so I won't be in the program book, but you will be able to find me at Tom Brazelton's booth (#4308) in Artist's Alley, alongside Joe Dunn at the Digital Pimp booth (#4310). Stop by, introduce yourself, and I'll draw a crappy little picture for you… by hand, even.
Become a Multiplex patron
Multiplex is supported by Andrew Hathaway at Can't Stop the Movies, A Fan of Coherence, and readers like you via PATREON. Help keep the Multiplex 10 open for business by becoming a patron today!
Patron rewards include:
Free eBooks!
Multiplex Movie Reviews and other bonus comics
Character doodles!
Invites to Google Hangouts!
Sneak peeks at early and in-progress strips and artwork!
and MORE!
Deleted Scenes Blog
Bonus comics, drawings,
movie trailers and more
Monday, December 1, 2014
In addition to the Multiplex Book set being 25% off, the individual Multiplex books are now 20% off each — and for you digital comics readers, the PDF eBooks are on sale, as well. Check out the EXTREME SAVINGS at the Multiplex Store today!
I feel like a prostitute every time I write copy like this. Not that there's anything wrong with that.
Other Recent Posts