Notes from the Manager
So… yeah. #250, and the first (I think) completely self-contained strip in a rather long time, although it might help if you have even a passing familiarity with American Girl dolls (particularly the "Just Like You" line) and with the existence of the Kit Kittredge: An American Girl movie starring Abigal Breslin (in limited release now, opening nationwide on July 2nd). That being the case, if you're a boy and you don't get this strip, I wouldn't really stress out about it. Really.
EDIT (6/27/08): If only this ad could be up on this page all the time: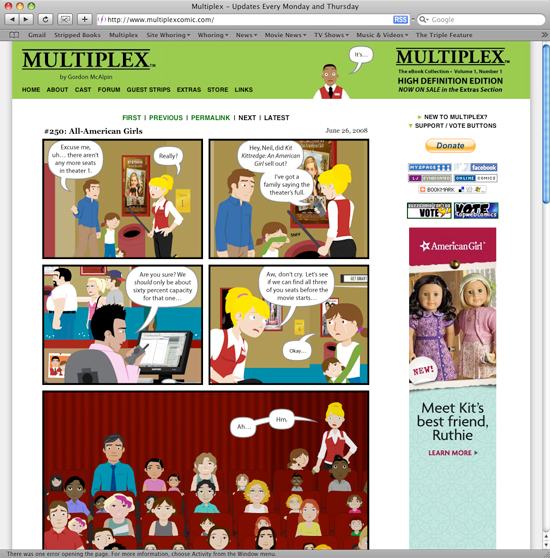 Anyway, so #250. It's not really a milestone, just a round number. As many of you know, there are a handful of other strips not in the archives, in the first Multiplex eBook and a one or two as-yet-uncollected ones from the upcoming second eBook (yes, I'm waaaaay behind, I know), so this is really not the 250th Multiplex strip.
The next real milestone for me will be the third anniversary, which is right around the corner, on July 10th — but I guess some people still think the round-numbers thing is pretty cool, so thank you for reading all the same.
By the way, despite my promise (to myself) that I won't be going to any comic book conventions until I have a frickin' comic book to sell, it turns out I will be appearing at this year's Wizard World Chicago after all — on Saturday (June 28) only. It's kind of an unoffical appearance, so I won't be in the program book, but you will be able to find me at Tom Brazelton's booth (#4308) in Artist's Alley, alongside Joe Dunn at the Digital Pimp booth (#4310). Stop by, introduce yourself, and I'll draw a crappy little picture for you… by hand, even.
Become a Multiplex patron
Multiplex is supported by Andrew Hathaway at Can't Stop the Movies, A Fan of Coherence, and readers like you via PATREON. Help keep the Multiplex 10 open for business by becoming a patron today!
Patron rewards include:
Free eBooks!
Multiplex Movie Reviews and other bonus comics
Character doodles!
Invites to Google Hangouts!
Sneak peeks at early and in-progress strips and artwork!
and MORE!
Deleted Scenes Blog
Bonus comics, drawings,
movie trailers and more
Sunday, March 29, 2015
I want to take a foray into electronic publishing.
I am looking for a (prose) writer to provide a short story, novella or non-fiction story that I will turn into an iBooks-formatted eBook for sale (in the iBookstore), released under my Chase Sequence publishing imprint. Chase Sequence published Multiplex: There and Back Again, which won the 2014 IPBA Gold Medal for Best Graphic Novel/Drawn Book–Humor/Cartoon, so technically it is an award-winning publisher.
There is no limitation with regard to genre, but I will say that my taste in prose leans strongly toward literary fiction and non-fiction, and toward characters, psychology, and well-written prose over plot. (Margaret Atwood is my favorite writer.)
What to Submit: A pitch for a 30+ page, prose short story/novella/non-fiction piece. No comics — no picture books. If you have already written the short story, great, but it must be previously unpublished. Please include links or URLs to a resumé and examples of previous published work would be helpful, to give me a feel for your voice.
Send questions (or submissions) to gordon at multiplexcomic.com.
The Terms: No money up front, but 50% of the cover price in exchange for one year of exclusivity (from the date of publication). The writer retains all other rights to their story. These will be sold via iBooks only (at least at first), which means that Apple will get 30% and I will get 20% for my contributions: I will edit the story; I will design and produce the eBook; I will illustrate a cover for it (or hire someone else to, if I'm not the best fit for the story); I will help promote it.
Please submit your pitch before April 30, 2015. I will notify the selected writer(s) I am interested in working with as soon as possible after that.
Other Recent Posts