WARNING: It's probably too late already, but today's strip is sorta NSFW!
#324: Spilling the Beans, Part Three
January 30, 2009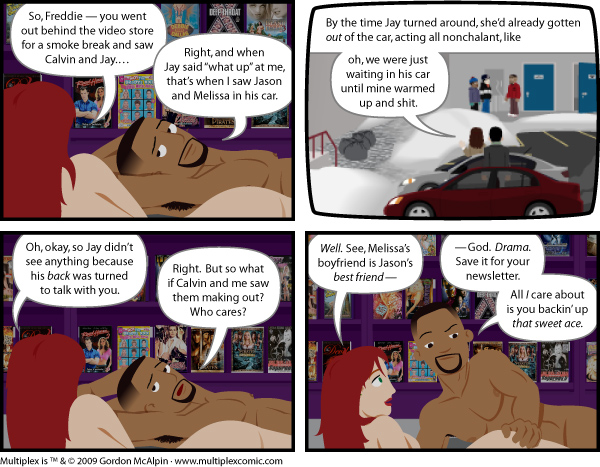 Notes from the Manager
Related Strips: #322: Spilling the Beans, Part One; #323: Spilling the Beans, Part Two
And that's not all Freddie spilled! Wink wink, nudge nudge. Uhh, anyway.
Despite being in the "Adult" section of Flickhead Video and the state of undress Freddie and Gretchen are in, there is actually no nudity in this strip. Strictly PG-13! But I thought a little NSFW warning might be merited anyway, just because of the amount of nekkid flesh you can sort of see in it.
For a closer look at panel 2 (and without the "crappy TV" treatment applied to it), please vote for Multiplex at TopWebComics!
(FYI, I had to pick a name for the beauty salon located in-between Flickhead and the Multiplex, even though the sign is obviously so small that you can't even read it. Thanks to Red Wednesday for the name "Dye Another Day." Sooner or later one or more of the Dye Another Day staff will turn up at the Multiplex… if they haven't already.)
Become a Multiplex patron
Multiplex is supported in part by Andrew Hathaway at Can't Stop the Movies
and readers like you via PATREON.
Patron rewards include:
• A free eBook every month (or so)!
• Multiplex Movie Reviews and
other bonus comics
• Character doodles!
• Invites to Google Hangouts!
• Sneak peeks at early and in-progress
strips and artwork!
• and MORE!
Deleted Scenes Blog
Bonus comics, drawings,
movie trailers and more
Thursday, March 6, 2014
Be warned: this is really a three minute clip from the movie with a 1-minute trailer at the end. AND there is one or two spoilery things that you may not want to see, if you want to go into the theater with as close to a blank slate as possible.
However. If that doesn't bother you, it is pretty awesome. The action we see here is a lot of fun.
Captain America: The Winter Soldier stars Chris Evans, Scarlett Johansson, Sebastian Stan, Anthony Mackie, Cobie Smulders, Frank Grillo, Emily VanCamp, Hayley Atwell, Robert Redford and Samuel L. Jackson. It hits theaters on April 4, 2014.
Other Recent Posts