WARNING: It's probably too late already, but today's strip is sorta NSFW!
#324: Spilling the Beans, Part Three
January 30, 2009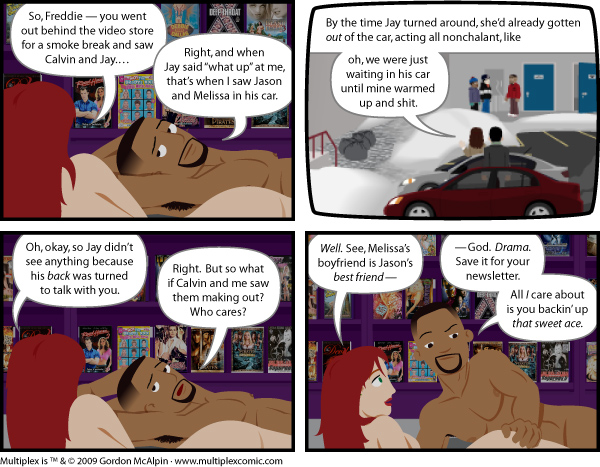 Notes from the Manager
Related Strips: #322: Spilling the Beans, Part One; #323: Spilling the Beans, Part Two
And that's not all Freddie spilled! Wink wink, nudge nudge. Uhh, anyway.
Despite being in the "Adult" section of Flickhead Video and the state of undress Freddie and Gretchen are in, there is actually no nudity in this strip. Strictly PG-13! But I thought a little NSFW warning might be merited anyway, just because of the amount of nekkid flesh you can sort of see in it.
For a closer look at panel 2 (and without the "crappy TV" treatment applied to it), please vote for Multiplex at TopWebComics!
(FYI, I had to pick a name for the beauty salon located in-between Flickhead and the Multiplex, even though the sign is obviously so small that you can't even read it. Thanks to Red Wednesday for the name "Dye Another Day." Sooner or later one or more of the Dye Another Day staff will turn up at the Multiplex… if they haven't already.)
How much Multiplex can you handle?!
Multiplex is made possible by Andrew Hathaway at Can't Stop the Movies and readers like you via Patreon, who contribute over $600 per month to keep Multiplex updating and ad-free.
In addition to the warm, soothing feeling of being a patron of the fine art of comic strippery, Patrons get access to free Multiplex eBooks, sneak previews of upcoming comics and other behind the scenes peeks, sketch giveaways, and more!
You can also support Multiplex by shopping at the Multiplex store — or at Amazon via these affiliate links: United States | United Kingdom | Canada
Deleted Scenes Blog
Bonus comics, drawings,
movie trailers and more
Saturday, May 28, 2016
Multiplex: Chapter 14 is now available! If you're a Kickstarter or Patreon backer, you have already been notified about this, but for those of you who aren't, you can get it from Gumroad superfast, or you can get it from the Multiplex Store. Either way supports the continued creation of Multiplex.
In Multiplex: Chapter 14, Jason reads a book while the Flickhead and Multiplex crews play more video games. This is some heavy shit here, broh! This volume collects strips #287–310 from the Multiplex archives, plus five bonus comics not found online!
I've probably mentioned this before, but I hope to continue making new Multiplex comics for these collections at about the same pace as the regular comic (two a week) over at Patreon, and then releasing the eBook collections with this material every 4–6 weeks or so. (And then funding a print collection through Kickstarter after all of the bonus material is finished — rather than funding the creation of that new material with the Kickstarter as I've done for the first three books.)
So just because the strip will be finished doesn't mean Multiplex is going to disappear entirely!
Other Recent Posts