Notes from the Manager
So… #350, if that sort of thing means anything to you. Me, not so much (I get more excited about the year anniversaries every July 10th), but thank you for reading all the same, everyone.
The movie the boys are watching is Dito Montiel's Fighting, starring Channing Tatum and Terrence Howard.
You can see the trailer over at Apple, if you want, but honestly, though, the trailer doesn't do the movie a lot of justice. From its hip-hop soundtrack to the generic voiceover that spells out the film's ridiculous plot as if it was the slightest bit original, it's simply all wrong for the movie. For a better taste of the film, watch this minute-long clip from one of the best fights in the film (as well as the scene they're watching in the second-to-last panel):
That's not to say the movie is all action; it's not. There are only five or six fights, and only a couple of them last more than a few minutes — but they're good. And even though the cast is mostly just adequate, co-writer and director Dito Montiel infuses Fighting with a swaggering, streetwise sort of charm and a lot of visual style — not to mention a bumping soundtrack filled with funk and soul.
From the second the credits start rolling, you'll realize that Fighting is essentially a modernized, relatively serious take on a blaxploitation film… except, you know, starring Channing Tatum. It's definitely worth a rental or a matinee (perhaps with a drink or two beforehand, to get you through the film's weaker spots).
Anyway, thanks once again to Jackson Ferrell, Brandon J. Carr and Steve Napierski for their guest strips earlier this week and last. Their comics are, of course, now in the Guest Strips page.
See you Friday! Multiplex will return to its usual Monday/Thursday updates next week.
Multiplex News & Updates
Bonus comics, drawings, and
other awesome stuff
Saturday, May 27, 2017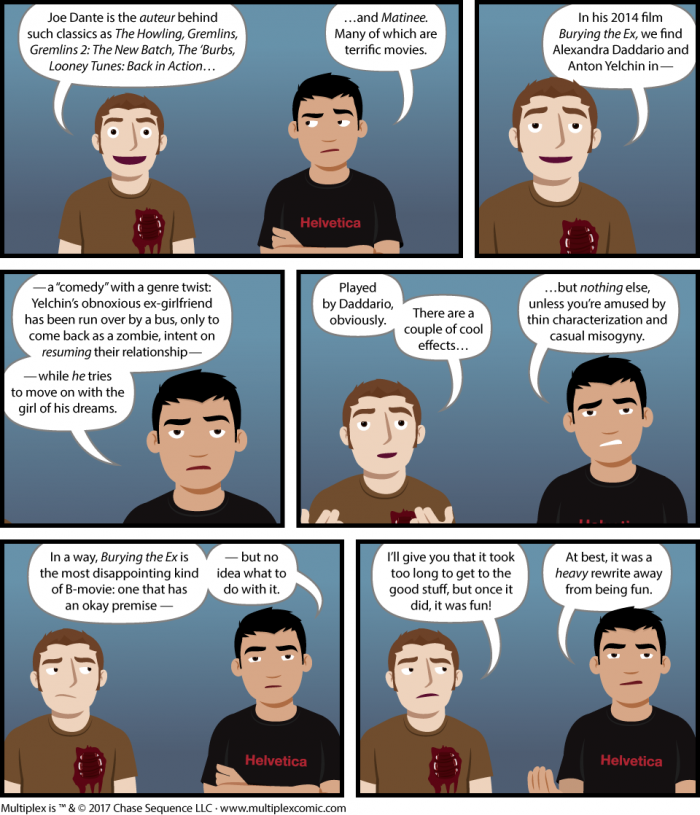 Hello, Multiplex readers!
A quick update on what's going on with everything Multiplex-related:
The storyboards for the Multiplex 10 animated short are DONE. Rough, but done. Pre-production continues for the next few weeks with the construction/editing/etc. of the first rough animatic and design/illustration work.
Although the Kickstarter project has ended, you can still support the project (or my comics work) by becoming a Patreon patron or making a one-time PayPal donation.
Multiplex: The Revenge (Book Three) is being shipped out to Kickstarter backers and will be available for purchase to everyone else on June 14th — as will the Multiplex mini-posters set.
I will be at Wizard World Philadelphia (Friday–Sunday only) with copies of Book Three, so if you're in that neck of the woods, you can get it a little early. :)
Multiplex Movie Reviews like this one, bonus comics from Multiplex: The Best Laid Plans (Book Four), and other stuff are being exclusively posted to Patreon a couple of times a week. Er, except for this one, obviously.
Other Recent Posts