Notes from the Manager
Related Strips: #88: Back to Business; #241: Nevermind; #318: Unbelievably Enough; #346: You Wouldn't Steal a Purse…
Lydia and her co-workers have all previously appeared in the strips linked to above, in the "Related Strips."
I can't take credit for the name "Dye Another Day," which was the brainchild of my friend Cori Ann McHembree and keeps with the movie theme all the stores in the Multiplex 10's shopping center have (for no particularly good reason, honestly).
It is, in theory, located in the storefront between Flickhead Video and the Multiplex 10.
The Music Box Theatre is a real Chicago moviehouse that shows foreign and indie films, and it is indeed currently running Godard's Vivre Sa Vie (I saw it yesterday). Here is its trailer (which shows waaaay too much, I should warn you):
UPDATE (5/21): #358 is running late, but there is a short, self-contained preview/mini-strip over in the forum.
Multiplex News & Updates
Bonus comics, drawings, and
other awesome stuff
Saturday, May 27, 2017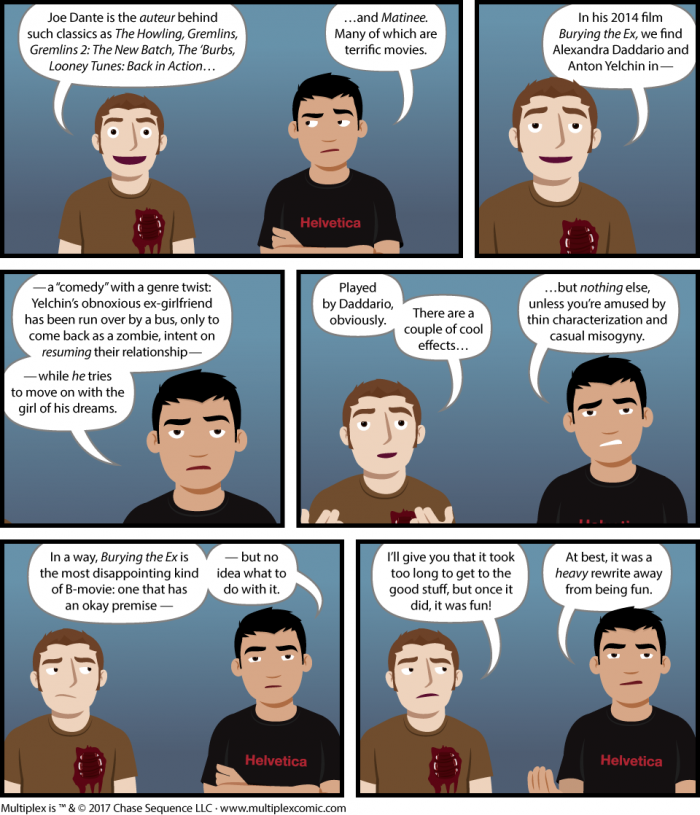 Hello, Multiplex readers!
A quick update on what's going on with everything Multiplex-related:
The storyboards for the Multiplex 10 animated short are DONE. Rough, but done. Pre-production continues for the next few weeks with the construction/editing/etc. of the first rough animatic and design/illustration work.
Although the Kickstarter project has ended, you can still support the project (or my comics work) by becoming a Patreon patron or making a one-time PayPal donation.
Multiplex: The Revenge (Book Three) is being shipped out to Kickstarter backers and will be available for purchase to everyone else on June 14th — as will the Multiplex mini-posters set.
I will be at Wizard World Philadelphia (Friday–Sunday only) with copies of Book Three, so if you're in that neck of the woods, you can get it a little early. :)
Multiplex Movie Reviews like this one, bonus comics from Multiplex: The Best Laid Plans (Book Four), and other stuff are being exclusively posted to Patreon a couple of times a week. Er, except for this one, obviously.
Other Recent Posts