Notes from the Manager
Related Strips: #393: I Always Feel Like Somebody's Watching Me
The Multiplex: Book 1 Club of Awesome has launched at Kickstarter! What does this all mean?!
Well, to find out, you can just waltz over to the Kickstarter site and watch the pitch video, or you can keep reading:
As many of you know, I've been plugging away at the Multiplex print book for a long time, and it's been pretty slow going. The first of the five Chapter eBooks that will be collected into the Multiplex: Book 1 print book has long been available, but a second is pretty late, because of how much new material it has and how little time I have to work on it. Meeting the twice-weekly update schedule is tough enough, some weeks!
By joining the Multiplex: Book 1 Club of Awesome, you'll be helping me take some time off from the day job in order to complete the print book — and, more importantly, pay for the print run of the book itself.
These are not donations, though — absolutely not! In exchange for your pledges, you'll receive AWESOME! REWARDS! such as a thank you in the print book and free copies of the five eBooks as they're completed ($5 and up), signed copies of the book ($30 an up), hand-drawn character sketches ($100 and up), or even a cameo appearance in the prequel story exclusive to the print book ($200 and up) — and with any pledge amount, I'll keep you updated with exclusive updates at the Kickstarter page — with peeks at in-progress art, video updates, bonus strips, and the like. (Head on over to the Kickstarter Project page for a complete run-down of the various reward levels available to pledgers.)
The great thing about Kickstarter is that nobody gets charged — I don't get anything — unless the project meets its funding goal! See, if I only got $3000 in pledges, I may be able to take a couple of weeks off from work, but I wouldn't be able to afford a print run — so it wouldn't do any of us much good.
So if you've been dying to see the Multiplex print book, or just want to help an artist out, head on over to Kickstarter and pledge!
ALSO: I had a guest appearance on the Flicks podcast this week, talking about Multiplex for a little while before the hosts — Jason and Dan — and I talked about George Lucas's first film, THX 1138. (It's a two-hour podcast, but I'm only in on the first hour or so.) You can download that from iTunes for free via this link.
AND FINALLY: I will be at the Windy City Comic Con this Saturday (9/19/09), doing free sketches at the Third Coast Comics booth and joining Tony Breed (Finn and Charlie are Hitched), John Campbell (Pictures for Sad Children), Justin Pierce (The Nonadventures of Wonderella) and C. Spike Trotman (Templar, AZ) on the Webcomics 101 panel at 1pm.
But wait! There's more!
Although Multiplex will be ending soon, thanks to readers like you on Patreon, the Multiplex 10 will stay open for business! I'll be posting bonus comics from future print collections, Multiplex Movie Review strips, updates on the upcoming Multiplex animated short, and, of course, other non-Multiplex stuff.
In addition to the warm, soothing feeling of being a patron of the fine art of comic strippery, Patrons get access to free Multiplex eBooks, sneak previews of upcoming comics and other behind the scenes peeks, sketch giveaways, and more!
You can also support Multiplex by shopping at the Multiplex store — or at Amazon via these affiliate links: United States | United Kingdom | Canada
Deleted Scenes Blog
Bonus comics, drawings,
movie trailers and more
Friday, February 17, 2017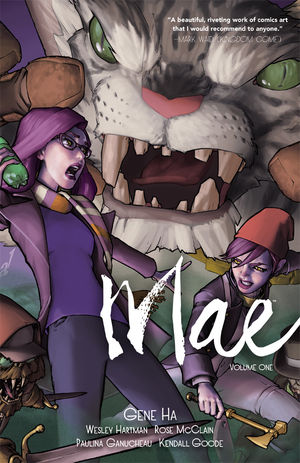 Heads up, completists. I have a three page story in the new Mae Volume One TPB from Dark Horse Comics. This is the same one I co-wrote (with Mae creator Gene Ha) and as a thank-you for backers of its original Kickstarter edition — and Dark Horse's editors decided to include the story in the back matter of this new collection, along with a bunch of other short stories by other great creators.
BUT… I have a story in a Dark Horse-published book! That's cool!
If you're not familiar with Mae, it's an all-ages adventure comic by Gene Ha (Top Ten and a billion other comics). Here's the official Dark Horse synopsis:
When she was just a girl, Abbie discovered a portal to a fantasy world and has since had great adventures there: defeating horrible monsters, power-mad scientists, and evil nobles. But when she turned twenty-one it all came apart and she decided to return home. Her sister, Mae, had no idea what happened to Abbie all this time, and Abbie's tales are too hard to believe—that is, until the monsters and other terrible creatures start to cross over to our world . . . Collects issues #1–#6.
I highly recommend it. It is a lot of fun. You can learn more about Mae Volume One on Amazon.
Other Recent Posts