Notes from the Manager
Related Strips: #63: Take a Stand; #355: The Man Trap
The Kickstarter funding period has ended — with an astonishing last-minute bang, bringing the total to $13,194.50 in pledges. That does not mean I'll get all of it, mind you; many peoples' credit cards have errored out or are still being processed.
Approximately $12,500 of the pledges have already been successfully processed, so there's nothing major to worry about — but, if you have recieved a notice from Kickstarter asking you to update your credit card information, please do so quickly! If your payment has not been processed by December 18th, it will be cancelled — you'll lose access to the backers-exclusive posts and obviously you will not receive your pledge rewards.
I did draw the winner of the "Win a Job at the Multiplex 10 Cinemas" contest already, though: ANGIE BOOTH… which is a perfect last name for someone working at a movie theater, come to think of it. Congratulations, Angie! Angie the Second will pop up at the Multiplex 10 some time in the spring or summer of 2010, after the print collection has gone to press. First things first!
For any questions about what's happening next with the book, keep your eyes peeled on the Kickstarter Updates page, or the Multiplex: Book 1 Progress Report box below!
Multiplex News & Updates
Bonus comics, drawings, and
other awesome stuff
Saturday, May 27, 2017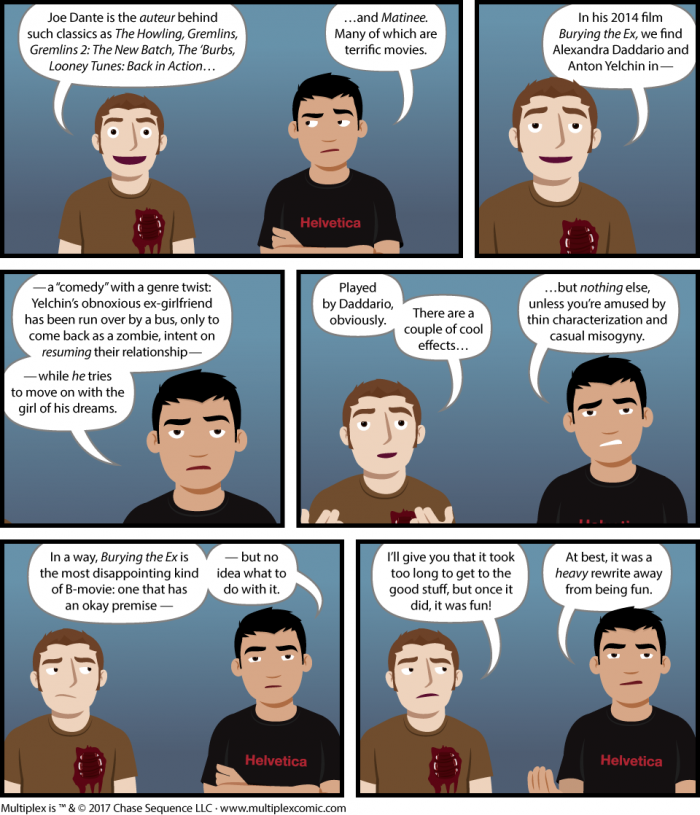 Hello, Multiplex readers!
A quick update on what's going on with everything Multiplex-related:
The storyboards for the Multiplex 10 animated short are DONE. Rough, but done. Pre-production continues for the next few weeks with the construction/editing/etc. of the first rough animatic and design/illustration work.
Although the Kickstarter project has ended, you can still support the project (or my comics work) by becoming a Patreon patron or making a one-time PayPal donation.
Multiplex: The Revenge (Book Three) is being shipped out to Kickstarter backers and will be available for purchase to everyone else on June 14th — as will the Multiplex mini-posters set.
I will be at Wizard World Philadelphia (Friday–Sunday only) with copies of Book Three, so if you're in that neck of the woods, you can get it a little early. :)
Multiplex Movie Reviews like this one, bonus comics from Multiplex: The Best Laid Plans (Book Four), and other stuff are being exclusively posted to Patreon a couple of times a week. Er, except for this one, obviously.
Other Recent Posts