Notes from the Manager
Related Strips: #436: Intervention 2: The Quickening
Man, so how about that iPad, huh?
UPDATE: It has been brought to my attention that dark roast actually has less caffeine than lighter roasted coffee beans. Huh! You learn something new every day. I guess Jason didn't know that (he did only work at "Spacebucks" for a… little while).
Anyway, "dark roast" sounds more menacing. So yeah.
UPDATE 2: Apparently I've been semi-misinformed? Dark roast doesn't necessarily have less caffeine, after all.
Multiplex News & Updates
Bonus comics, drawings, and
other awesome stuff
Saturday, May 27, 2017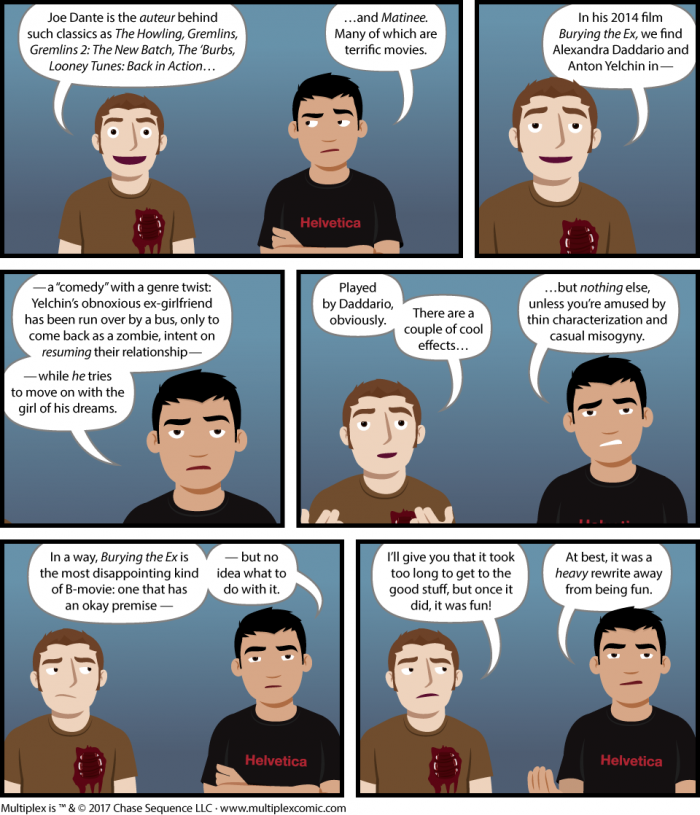 Hello, Multiplex readers!
A quick update on what's going on with everything Multiplex-related:
The storyboards for the Multiplex 10 animated short are DONE. Rough, but done. Pre-production continues for the next few weeks with the construction/editing/etc. of the first rough animatic and design/illustration work.
Although the Kickstarter project has ended, you can still support the project (or my comics work) by becoming a Patreon patron or making a one-time PayPal donation.
Multiplex: The Revenge (Book Three) is being shipped out to Kickstarter backers and will be available for purchase to everyone else on June 14th — as will the Multiplex mini-posters set.
I will be at Wizard World Philadelphia (Friday–Sunday only) with copies of Book Three, so if you're in that neck of the woods, you can get it a little early. :)
Multiplex Movie Reviews like this one, bonus comics from Multiplex: The Best Laid Plans (Book Four), and other stuff are being exclusively posted to Patreon a couple of times a week. Er, except for this one, obviously.
Other Recent Posts