Notes from the Manager
Related Strips: #213: Taking Flight; #440: Demons of the Inner Variety, Part One
So it begins. Monday is my first real day as a professional cartoonist, albeit a temporary one; starting today, I'm taking two months off from my regular (full-time) freelance gig, in order to concentrate on Multiplex — and, of course, the Multiplex: Book 1 print collection.
Kickstarter backers can expect a short video update sometime today, as well as a goodly number of bonus strips from the upcoming book — in addition to the regular updates, of which there will be three this week, once again.
Although this two-parter was really the climax of the arc, there's one last strip in this whole coffee storyline (an epilogue, really), so those of you who have been a little impatient with it can just hang in there 'til Friday, I hope. And those of you who have been enjoying it (which seems to be most of you), can… um… just keep enjoying it, I suppose.
Oh, and if you have a nagging feeling that panel 3 looks familiar, it's parodying a scene from Requiem for a Dream. I wouldn't recommend looking it up if you're in any sort of semi-public locale, because the original shot is rather NSFW.
Multiplex News & Updates
Bonus comics, drawings, and
other awesome stuff
Saturday, July 1, 2017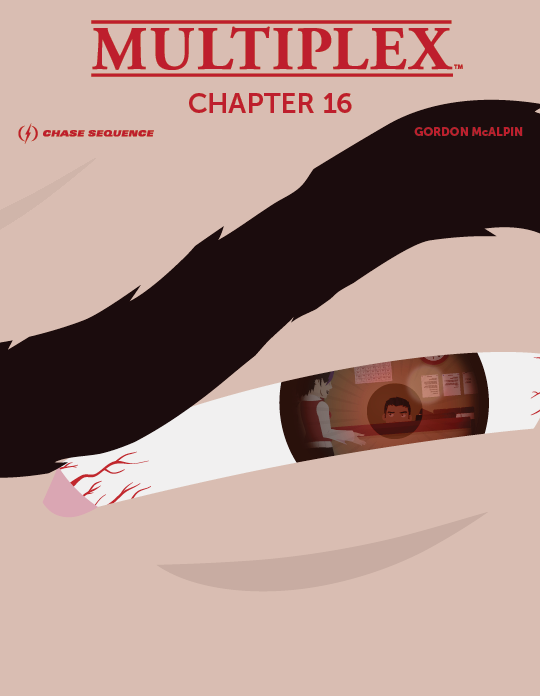 $3+ Patreon supporters get this one for free (until the next eBook is available), but for the rest of youse: The Multiplex: Chapter 16 eBook is now available!
Chapter 16 collects strips #339 –362 from the Multiplex archives, plus four bonus comics and one "extended scene" not found in the archives! Chapter 16 costs $1.99.
Supporting the Multiplex chapter eBooks helps make future Multiplex print collections possible. Thank you for your support!
Other Recent Posts