Notes from the Manager
Related Strips: #449: Crazies for You, Part One; #450: Crazies for You, Part Two; #451: Crazies for You, Part Three
You didn't miss Friday's bonus update, did you? Because there was a bonus update on Friday.
UPDATE: Multiplex Version 3.0 has launched. And you're looking at it.
Hopefully you like the changes. Please poke around, or just look at the Site Map to see what's new. Please let me know if you see any broken links or whatever!
The biggest changes that affect YOU are (1) the new Chapter/Book divisions in the archives, and (2) the bigger strips.
The Chapters, of course, correspond to the eBooks and the chapters from the upcoming print collection (and books 2, 3, and 4, as well — we're nearing the end of Book 4 at this point).
Online Editions of the eBooks are highlighted where those exist.
The new strips are now 700px wide (they were 600px before). I've also increased the size of all the strips in Book 4 (#339 to now) to 700px wide, so feel free to go back and see what tiny details you missed the first time around! ;)
Additionally, the Cast page and Guest Strips section have been reorganized, and I've added both a Fan Art section and an "Other Comics by Gordon" section for stuff I've done that doesn't really belong anywhere. (Non-Multiplex or Stripped Books stuff.)
UPDATE: It looks like we have a few issues with IE6 and IE7 to work out. Of course, if you use either of those, you could also just upgrade to a modern browser.
UPDATE: The IE6/7 issues should be mostly fixed. You won't be getting quite the same, polished experience every other internet surfer gets, but… well, you know, upgrade that browser. :)
Thursday's strip will be late! Now is as good a time to point out that there is now a "Twitter Is Stupid" thingy in the left sidebar. I will mention minor things like strips being late over there (and not so much here) in the future — not that I am late with the strip very often! Because I am not! So no grief will be taken from you, thank you very much!
Anyway, so, you know, if I'm supposed to have a strip up but don't (before like 8AM), looky at mah Twittaz.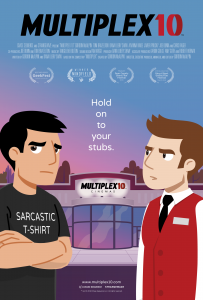 Multiplex 10 is here!
Although Multiplex 10 has ended, an animated prequel/reboot called Multiplex 10 was funded through Kickstarter in 2017 and is NOW AVAILABLE for rent or purchase on Vimeo On Demand, Amazon Video, and elsewhere! And an all-new, irregularly-updated Multiplex 10 web series (set after the short film) recently launched on YouTube! Learn more about the web series on the official Multiplex 10 website!
Stay up to date on all things Multiplex, Multiplex 10 and me (a.k.a. Gordon McAlpin) by subscribing to my newsletter!