Notes from the Manager
So I just found out where I'm gonna be at C2E2 in a couple of weeks! If you plan on going, click here to see a fancy-ass map of the convention and a fancy-ass pointer of where I'm gonna be (at booth WC B in the Webcomics Pavilion), sharing a booth with Joel Watson of Hjinks Ensue.
By the way, if you DO plan on going to C2E2 and are interested in a Multiplex print, shoot me an e-mail, and I'll save you shipping by bringing it to the show for you. I'll have a few different prints with me, as well as T-shirts and mini-posters and such.
Speaking of prints! You know that I have the super-ginormous 13"x19" prints available for $15 at the Multiplex Store, right? Well! I've added smaller (8.5"x11") and cheaper ($10) prints, as well, currently with the same selection as the larger prints.
Again, if you'd like a print of another strip, just shoot me an e-mail. Some of them simply aren't practical at one size or another; some of the super-long strips, for instance, would end up printing smaller than they are on the web, and that just won't do.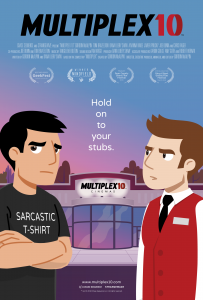 Multiplex 10 is here!
Although Multiplex 10 has ended, an animated prequel/reboot called Multiplex 10 was funded through Kickstarter in 2017 and is NOW AVAILABLE for rent or purchase on Vimeo On Demand, Amazon Video, and elsewhere! And an all-new, irregularly-updated Multiplex 10 web series (set after the short film) recently launched on YouTube! Learn more about the web series on the official Multiplex 10 website!
Stay up to date on all things Multiplex, Multiplex 10 and me (a.k.a. Gordon McAlpin) by subscribing to my newsletter!