Notes from the Manager
Hey, gang. There's an interview with me about Multiplex over at Comixpedia, as part of their movies-themed May "issue." Check it out. And if you're a first-time reader thanks to said interview, welcome!
Anyway, yes, it's true: Mission: Impossible III only got $48 million on its opening weekend (this past weekend), which isn't bad, but it's not great, either, for being the fourth widest release ever. Since the international total kicked that up another $70 million, there's no doubt it will make back its $150 million or so budget, but it's pretty clear that it opened just a bit too early in the year for "summer" and/or the whole "Tom Cruise is crazy" backlash has hurt his drawing power. It's a shame, though, because it really is a great, fun, action-packed movie, with a uniformly great cast. Hopefully some well-deserved positive word-of-mouth will do the film some justice.
Multiplex News & Updates
Bonus comics, drawings, and
other awesome stuff
Saturday, May 27, 2017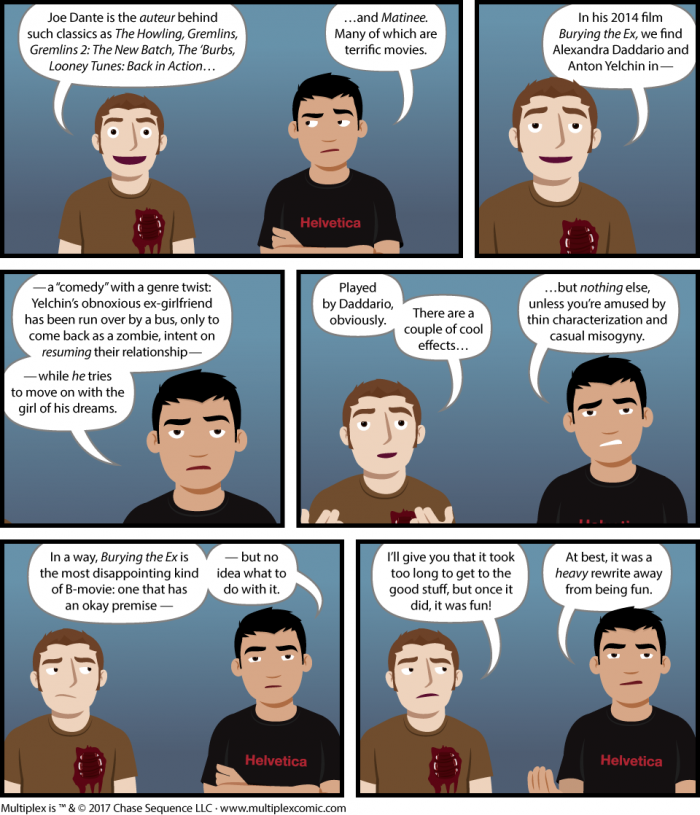 Hello, Multiplex readers!
A quick update on what's going on with everything Multiplex-related:
The storyboards for the Multiplex 10 animated short are DONE. Rough, but done. Pre-production continues for the next few weeks with the construction/editing/etc. of the first rough animatic and design/illustration work.
Although the Kickstarter project has ended, you can still support the project (or my comics work) by becoming a Patreon patron or making a one-time PayPal donation.
Multiplex: The Revenge (Book Three) is being shipped out to Kickstarter backers and will be available for purchase to everyone else on June 14th — as will the Multiplex mini-posters set.
I will be at Wizard World Philadelphia (Friday–Sunday only) with copies of Book Three, so if you're in that neck of the woods, you can get it a little early. :)
Multiplex Movie Reviews like this one, bonus comics from Multiplex: The Best Laid Plans (Book Four), and other stuff are being exclusively posted to Patreon a couple of times a week. Er, except for this one, obviously.
Other Recent Posts