Notes from the Manager
To be continued… after I actually see Insidious! The film has been getting very, very positive reviews, all saying the film is a genuinely scary supernatural horror movie that doesn't rely on gore or cheap jump scares, so I'm actually a little curious.
Source Code is also out this weekend, and while I must admit the trailers look like a cool premise that could easily veer off into really bad sci-fi-romance territory, I have faith that Duncan Jones (the writer-director of the superb Moon) wouldn't take a script that predictably, generically bad. And again, early reviews have been really strong.
So yeah! It looks like — potentially — a really great weekend for fans of indie genre flicks. I'm going to try to see both of these this weekend, but we'll see. Are you looking forward to seeing either of these this weekend, neither of them, both of them, or something else entirely?
Multiplex News & Updates
Bonus comics, drawings, and
other awesome stuff
Saturday, May 27, 2017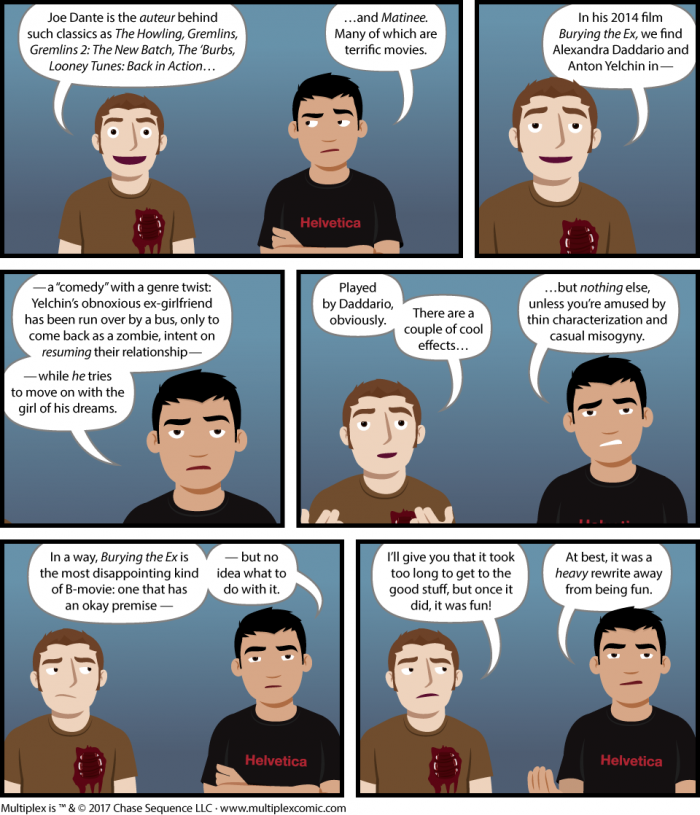 Hello, Multiplex readers!
A quick update on what's going on with everything Multiplex-related:
The storyboards for the Multiplex 10 animated short are DONE. Rough, but done. Pre-production continues for the next few weeks with the construction/editing/etc. of the first rough animatic and design/illustration work.
Although the Kickstarter project has ended, you can still support the project (or my comics work) by becoming a Patreon patron or making a one-time PayPal donation.
Multiplex: The Revenge (Book Three) is being shipped out to Kickstarter backers and will be available for purchase to everyone else on June 14th — as will the Multiplex mini-posters set.
I will be at Wizard World Philadelphia (Friday–Sunday only) with copies of Book Three, so if you're in that neck of the woods, you can get it a little early. :)
Multiplex Movie Reviews like this one, bonus comics from Multiplex: The Best Laid Plans (Book Four), and other stuff are being exclusively posted to Patreon a couple of times a week. Er, except for this one, obviously.
Other Recent Posts