Notes from the Manager
Related Strips: #589: Dream Come True
Thanks again to TJ Tague for Wednesday's guest strip! I'll get it onto the Guest Strips page as soon as I can.
Fans of the Nightmare on Elm Street movies will probably recognize panel 10 as being a reference to a scene in Nightmare on Elm Street 3, but I don't think you really need to know that to follow what's going on. I mean, seriously, you've all figured out by now that if there isn't a panel border, it's not real, right? (If the girl in bed with Jason changing every panel wasn't enough of a hint there.)
I like to think that Jason and Kurt actually did act out the bit in panels 4 and 5 to scare the Blogger, though, and that it wasn't only Jason's dream (within a dream).
I'll be reminding you (many times, probably) in the near future, but Multiplex: Enjoy Your Show will be listed in Diamond Comics' June PREVIEWS catalog (for sale in August). Its order code is JUN110987. Especially for those of you who live overseas, where the cost to ship the book often exceeds the cost of the book itself, this will your best chance to get the book! Have your local comics shop (which almost undoubtedly has an account with Diamond) order the book for you along with their regular order!
Send them over to http://www.multiplexcomic.com/enjoyyourshow if they want to learn more about the book, or read some clips from the many positive reviews the book has gotten since it was first published! The better the book sells through Diamond, the more likely they will carry Book 2 — which will also have some impact on whether Book 2 arrives sooner, rather than later… or (gulp) not at all.
Back to the subject of the strip, though: Have we got any other Nightmare on Elm Street fans out there? I like 1, 3, 4, and 5, despite all of their flaws — and 3 is actually my favorite. 2 and 6 were garbage, though, and I never saw any of the others. What I loved about 3 and 4 is the idea that Freddy actually has opponents who could sort of… but never really seem to… actually challenge him in a meaningful way. Those films don't really explore that idea as much as I would have liked, but they're still fun films. (I'd love the chance to write a Nightmare on Elm Street comic, now that I think about it… Somebody make that happen.)
But wait! There's more!
Although Multiplex will be ending soon, thanks to readers like you on Patreon, the Multiplex 10 will stay open for business! I'll be posting bonus comics from future print collections, Multiplex Movie Review strips, updates on the upcoming Multiplex animated short, and, of course, other non-Multiplex stuff.
In addition to the warm, soothing feeling of being a patron of the fine art of comic strippery, Patrons get access to free Multiplex eBooks, sneak previews of upcoming comics and other behind the scenes peeks, sketch giveaways, and more!
You can also support Multiplex by shopping at the Multiplex store — or at Amazon via these affiliate links: United States | United Kingdom | Canada
Deleted Scenes Blog
Bonus comics, drawings,
movie trailers and more
Friday, February 17, 2017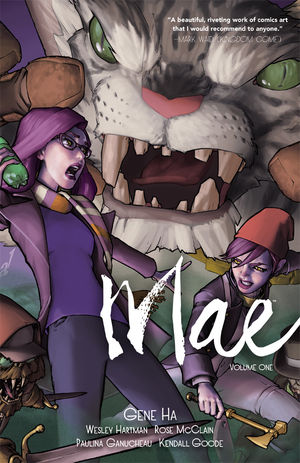 Heads up, completists. I have a three page story in the new Mae Volume One TPB from Dark Horse Comics. This is the same one I co-wrote (with Mae creator Gene Ha) and as a thank-you for backers of its original Kickstarter edition — and Dark Horse's editors decided to include the story in the back matter of this new collection, along with a bunch of other short stories by other great creators.
BUT… I have a story in a Dark Horse-published book! That's cool!
If you're not familiar with Mae, it's an all-ages adventure comic by Gene Ha (Top Ten and a billion other comics). Here's the official Dark Horse synopsis:
When she was just a girl, Abbie discovered a portal to a fantasy world and has since had great adventures there: defeating horrible monsters, power-mad scientists, and evil nobles. But when she turned twenty-one it all came apart and she decided to return home. Her sister, Mae, had no idea what happened to Abbie all this time, and Abbie's tales are too hard to believe—that is, until the monsters and other terrible creatures start to cross over to our world . . . Collects issues #1–#6.
I highly recommend it. It is a lot of fun. You can learn more about Mae Volume One on Amazon.
Other Recent Posts