Notes from the Manager
Related Strips: #591: Blood Thirst; #592: It's All Fun and Games…
Don't think the Multiplex staff is going to get off this easy, after an accident like this. Stay tuned.
Once again, I am going to try for more than the usual two updates this week — and it will definitely happen. BUT… I don't know quite how many there will be. Three? Five? I don't know yet! I don't have a freelance job getting in the way this week — yet — so it's looking pretty good.
But there will definitely be at least two more — since they're already done — those two being bonus comics for the upcoming Chapter 6 eBook, which will go up over at the Deleted Scenes blog — so be sure to subscribe to the Multiplex Complete RSS feed (or at least to the Comics category feed) to keep up to date.
Time is running out on the Rhyme Bandits T-shirt pre-order! We're coming up short at the moment, so if you'd like to see this shirt get made, order it today!
(Thanks to Terrence Wiggins of Stagnant Pool Party for the help figuring out the title for this strip. It always helps to have a sounding board! Check out SPP if you like crazy-ass webcomics. When I archive-binged their relatively young strip, I had laughs a-plenty.)
UPDATE (5/31): The first of the two Chapter 6 bonus comics set for this week is up over at Deleted Scenes.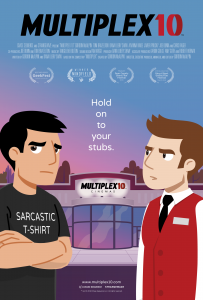 Multiplex 10 is here!
Although Multiplex 10 has ended, an animated prequel/reboot called Multiplex 10 was funded through Kickstarter in 2017 and is NOW AVAILABLE for rent or purchase on Vimeo On Demand, Amazon Video, and elsewhere! And an all-new, irregularly-updated Multiplex 10 web series (set after the short film) recently launched on YouTube! Learn more about the web series on the official Multiplex 10 website!
Stay up to date on all things Multiplex, Multiplex 10 and me (a.k.a. Gordon McAlpin) by subscribing to my newsletter!