Notes from the Manager
Related Strips: #594: Grown Ups; #595: Waiting for Forever
Dario Dargento's Suspiria is pretty well known, but I expect House isn't. Here's its trailer, courtesy the Criterion Collection, which issued a DVD and Blu-Ray of the 1977 horror-comedy last fall:
Both Suspiria and House have their shortcomings (Suspiria has pretty bad acting and the plot's really kind of stupid if you think about it objectively; House is just… well, you saw the trailer), but they both have excellent, frequently brilliant visuals, and Suspiria has amazing music (by Goblin), so they're certainly worth watching.
And also, now you know for certain: Norma suspended Kurt for three weeks. But since Multiplex is set in real time, and he was suspended on the same night Angie 2 was injured (May 20 — the day Pirates of the Caribbean: On Stranger Tides opened), that means he'll be back at the theater before you know it.
Thanks to Joel Watson of the webcomic HiJinks Ensue and the T-shirt mini-empire Sharksplode, I've found a T-shirt printing company that offers high-quality print-on-demand shirts at reasonable prices — so, I'm going to start rolling out a ton of T-shirt designs at the store over the next few weeks. Yes, I will finally be able to do character T-shirts (using DTG printing)! Yes, I will finally offer a Multiplex logo T-shirt again. If there's a Multiplex T-shirt you've been dying to have, let me know, and I'll see what I can do.
The first two new designs, however, are the Sarcastic T-shirt T-shirt seen in this very strip and an Ozu's the Boss? T-shirt.
I need to make sure that the printer has the other colors of shirts in stock before I can add the next couple designs. I'm also double-checking on the available of larger sizes (larger than 2XL) before I add those. I don't want to offer something they can't make, obviously!
UPDATE: They do indeed carry Men's sizes up to 5XL, so I've added those to the existing designs — and I've added four other shirts, as well: Multiplex logo shirts, Rhyme Bandits, I Believe in George Romero and Kurt's T-shirt from this strip, Rosebud Was My Dick.
Multiplex News & Updates
Bonus comics, drawings, and
other awesome stuff
Thursday, June 15, 2017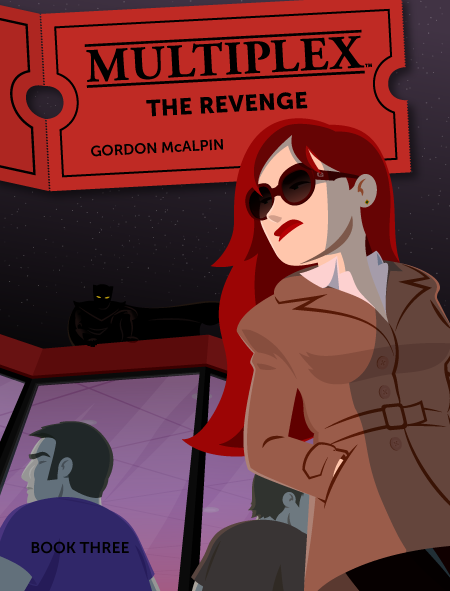 Multiplex: The Revenge (Book Three) is now available in the Multiplex Store! (Only regular/unsigned editions are available at this time; I'll add artist's editions once all of the Kickstarter rewards have been fulfilled.)
Multiplex: The Revenge collects chapters 11–15 of the series (strips #217–338, which ran from March 2008 to March 2009), plus over 30 bonus comics — including an all-new stories sets on opening night of The Dark Knight and Zack Snyder's Watchmen! If you miss Multiplex and would like to see more with these characters, the book collections are for you.
Head on over to the Multiplex Store and check it out today!
Other Recent Posts