Notes from the Manager
If you ignored my note above and don't know what's going on, that's because this is part two of a six-part crossover between Dave Willis's Shortpacked! and Multiplex — which we're calling "Multipacked!" — so head over to Shortpacked! to read Part One.
Before anyone asks: yes, our webcomics take place in different cities. We're just gonna handwave that and say that in the Multiplex universe, there's a version of Shortpacked! in Chicago, and in the Shortpacked! universe, there's a version of Multiplex in San Francisco. (I had Jason turn up there once before, for a Shortpacked! guest comic that I did a little over a year ago, so I guess that's Multiplex canon now.)
The Shortpacked!/Multiplex crossover started on Monday over at Shortpacked!, and we'll alternate for the next few days — so Multiplex today (duh), SP! on Wednesday, Multiplex on Thursday, and then conclude on Friday with strips at both sites. (Dave's Friday comic will be first chronologically.) I'll see you tomorrow over at Shortpacked! and then back here on Thursday!
Dear New Visitors from Shortpacked!
If you're new to Multiplex, I generally recommend starting from the beginning, but as you all know, the first year or two of a long-running webcomic are rarely indicative of its eventual quality, so if you'd rather get a feel for what the strip evolves into, maybe start at Chapter 26 instead.
Multiplex News & Updates
Bonus comics, drawings, and
other awesome stuff
Saturday, July 1, 2017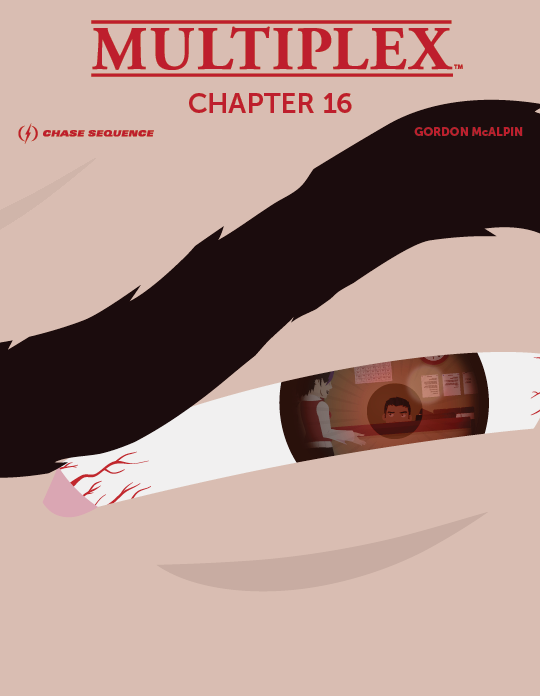 $3+ Patreon supporters get this one for free (until the next eBook is available), but for the rest of youse: The Multiplex: Chapter 16 eBook is now available!
Chapter 16 collects strips #339 –362 from the Multiplex archives, plus four bonus comics and one "extended scene" not found in the archives! Chapter 16 costs $1.99.
Supporting the Multiplex chapter eBooks helps make future Multiplex print collections possible. Thank you for your support!
Other Recent Posts