Notes from the Manager
Related Strips: #639: Aaah! Zombies!!; #749: Finally, Part One
Payoff for a seemingly innocuous detail 110 strips ago. I am totally doing webcomics wrong.
This one's gonna fly past a lot of you, but it's clear that it's something to do with the projector, right? (The ZScreen is "a push-pull electro-optical liquid crystal modulator that is placed immediately in front of the projector lens… to alternately polarize the light from each video frame. It circularly polarizes the frames clockwise for the right eye and counterclockwise for the left eye." [Wikipedia])
I guess if you don't count all the bonus comics and such, Multiplex is 750 strips old today. Thank you for reading. Sorry the schedule's been wonky recently. I hope to get back on track once the hand-drawn movie stuff is over, and there will be a short break between Books 6 and 7 for me to try to get a buffer together for like the second time ever.
If any of you webcartoonists (or cartoonists or animators or whatever) out there would like to do a Multiplex guest strip, drop me an e-mail, and I'll give you the details/requirements.)
Movie theater workers: What did you think the "Z" stood for?
Multiplex News & Updates
Bonus comics, drawings, and
other awesome stuff
Thursday, June 15, 2017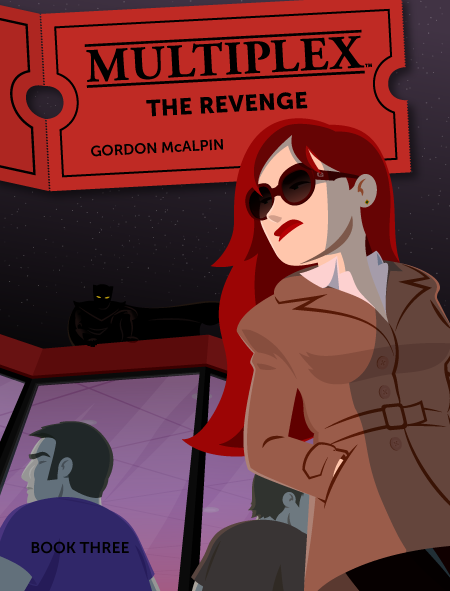 Multiplex: The Revenge (Book Three) is now available in the Multiplex Store! (Only regular/unsigned editions are available at this time; I'll add artist's editions once all of the Kickstarter rewards have been fulfilled.)
Multiplex: The Revenge collects chapters 11–15 of the series (strips #217–338, which ran from March 2008 to March 2009), plus over 30 bonus comics — including an all-new stories sets on opening night of The Dark Knight and Zack Snyder's Watchmen! If you miss Multiplex and would like to see more with these characters, the book collections are for you.
Head on over to the Multiplex Store and check it out today!
Other Recent Posts