Notes from the Manager
Related Strips: #558: The Roommate; #813: Girlfight; #814: Projection
It's not a sentiment especially unique to this quote (or this comic), but the title comes from a Henry Rollins interview: "Cynicism is at this point for me, intellectual sloth and cowardice."
This is it for this scene, but as you can tell, things are unresolved between Melissa and Becky, and you can bet it'll come up again.
You might poke about the website a bit today. I've replaced many of the simpler graphics (the logo at the top, the web icons in the footer, and all of the Cast "photos") with SVGs (Scalable Vector Graphics), meaning you can now zoom into them and they will be super-crisp. This also makes them retina-display-friendly. The more complex images haven't been updated yet, and unfortuantely, the strip art is much too complex for SVG, so those have to stay raster images.
Along with that, I've updated a number of the character histories in the Cast Pages section; some of them are out of date still (there are fifty of them, y'know?), but I'm working on it. Let me know if there are any characters you think I should add! I know Guy and Turtle have probably appeared enough to merit entries, and probably a few more of the recurring customers, although I'm slightly embarassed at some of my secret nicknames for them.
I've also — finally — named the chain that owns the Multiplex 10 Cinemas, albeit only in the Cast Pages/Bonus Features section for now. It's called "Feature Cinemas," which seemed simple enough and didn't appear to be taken. So far, only two characters are in that category — Max and Candace (the film buyer)… but it won't stay that way for long.
Multiplex News & Updates
Bonus comics, drawings, and
other awesome stuff
Thursday, June 15, 2017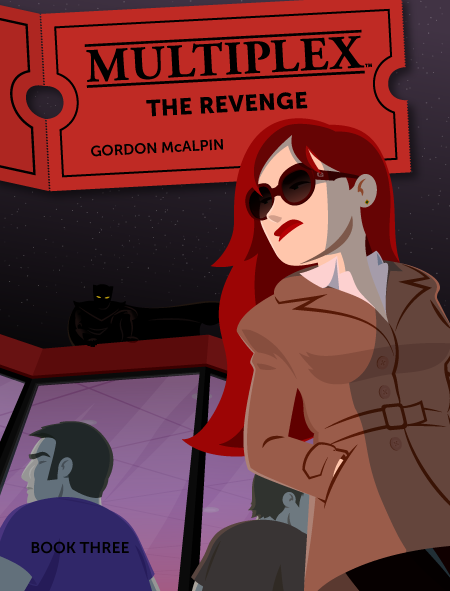 Multiplex: The Revenge (Book Three) is now available in the Multiplex Store! (Only regular/unsigned editions are available at this time; I'll add artist's editions once all of the Kickstarter rewards have been fulfilled.)
Multiplex: The Revenge collects chapters 11–15 of the series (strips #217–338, which ran from March 2008 to March 2009), plus over 30 bonus comics — including an all-new stories sets on opening night of The Dark Knight and Zack Snyder's Watchmen! If you miss Multiplex and would like to see more with these characters, the book collections are for you.
Head on over to the Multiplex Store and check it out today!
Other Recent Posts