Notes from the Manager
Related Strips: #558: The Roommate; #813: Girlfight; #814: Projection
It's not a sentiment especially unique to this quote (or this comic), but the title comes from a Henry Rollins interview: "Cynicism is at this point for me, intellectual sloth and cowardice."
This is it for this scene, but as you can tell, things are unresolved between Melissa and Becky, and you can bet it'll come up again.
You might poke about the website a bit today. I've replaced many of the simpler graphics (the logo at the top, the web icons in the footer, and all of the Cast "photos") with SVGs (Scalable Vector Graphics), meaning you can now zoom into them and they will be super-crisp. This also makes them retina-display-friendly. The more complex images haven't been updated yet, and unfortuantely, the strip art is much too complex for SVG, so those have to stay raster images.
Along with that, I've updated a number of the character histories in the Cast Pages section; some of them are out of date still (there are fifty of them, y'know?), but I'm working on it. Let me know if there are any characters you think I should add! I know Guy and Turtle have probably appeared enough to merit entries, and probably a few more of the recurring customers, although I'm slightly embarassed at some of my secret nicknames for them.
I've also — finally — named the chain that owns the Multiplex 10 Cinemas, albeit only in the Cast Pages/Bonus Features section for now. It's called "Feature Cinemas," which seemed simple enough and didn't appear to be taken. So far, only two characters are in that category — Max and Candace (the film buyer)… but it won't stay that way for long.
But wait! There's more!
Although Multiplex will be ending soon, thanks to readers like you on Patreon, the Multiplex 10 will stay open for business! I'll be posting bonus comics from future print collections, Multiplex Movie Review strips, updates on the upcoming Multiplex animated short, and, of course, other non-Multiplex stuff.
In addition to the warm, soothing feeling of being a patron of the fine art of comic strippery, Patrons get access to free Multiplex eBooks, sneak previews of upcoming comics and other behind the scenes peeks, sketch giveaways, and more!
You can also support Multiplex by shopping at the Multiplex store — or at Amazon via these affiliate links: United States | United Kingdom | Canada
Deleted Scenes Blog
Bonus comics, drawings,
movie trailers and more
Friday, February 17, 2017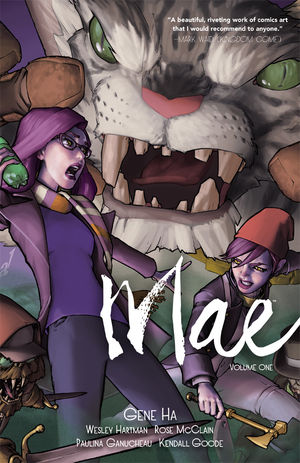 Heads up, completists. I have a three page story in the new Mae Volume One TPB from Dark Horse Comics. This is the same one I co-wrote (with Mae creator Gene Ha) and as a thank-you for backers of its original Kickstarter edition — and Dark Horse's editors decided to include the story in the back matter of this new collection, along with a bunch of other short stories by other great creators.
BUT… I have a story in a Dark Horse-published book! That's cool!
If you're not familiar with Mae, it's an all-ages adventure comic by Gene Ha (Top Ten and a billion other comics). Here's the official Dark Horse synopsis:
When she was just a girl, Abbie discovered a portal to a fantasy world and has since had great adventures there: defeating horrible monsters, power-mad scientists, and evil nobles. But when she turned twenty-one it all came apart and she decided to return home. Her sister, Mae, had no idea what happened to Abbie all this time, and Abbie's tales are too hard to believe—that is, until the monsters and other terrible creatures start to cross over to our world . . . Collects issues #1–#6.
I highly recommend it. It is a lot of fun. You can learn more about Mae Volume One on Amazon.
Other Recent Posts