Notes from the Manager
I do want to get back to the film series sometime soon, but I'm moving in a week, so doing hand-drawn strips is not an option at the moment, I'm afraid. Instead, we actually get a strip with Kurt and Jason talking about a current movie!
There does seem to be a very polarized reaction to Guillermo del Toro's latest (a.k.a. Pacific Rim), with most of the people I know on Twitter loving it, but a handful of confusing (to me), strong negative reactions around the internet. DO NOT post Pacific Rim spoilers below. If you want to talk about the movie in more detail, I've given a little bit of my opinion about it (I wouldn't say it was a review) and set up a "Spoiler Zone" post over at Deleted Scenes. Spoilers are okay in the Spoiler Zone comments section, though, so you have been warned.
See you… Thuriday. :P to you, Bunk.
Multiplex News & Updates
Bonus comics, drawings, and
other awesome stuff
Thursday, June 15, 2017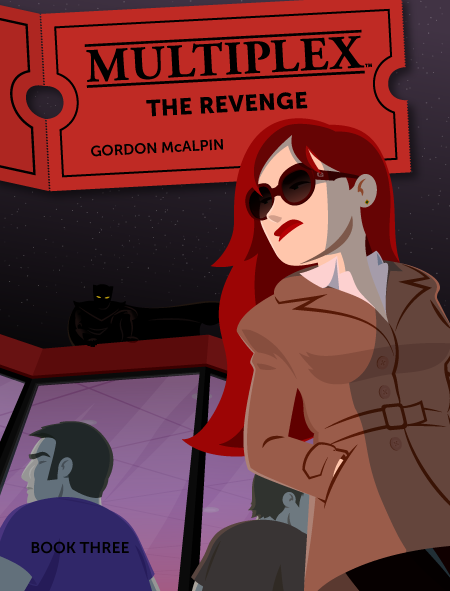 Multiplex: The Revenge (Book Three) is now available in the Multiplex Store! (Only regular/unsigned editions are available at this time; I'll add artist's editions once all of the Kickstarter rewards have been fulfilled.)
Multiplex: The Revenge collects chapters 11–15 of the series (strips #217–338, which ran from March 2008 to March 2009), plus over 30 bonus comics — including an all-new stories sets on opening night of The Dark Knight and Zack Snyder's Watchmen! If you miss Multiplex and would like to see more with these characters, the book collections are for you.
Head on over to the Multiplex Store and check it out today!
Other Recent Posts