Notes from the Manager
So… yeah! I'm sure some of you will want to discuss Elysium below, but please keep the comments below spoiler-free for people who haven't seen it yet. No "spoiler warnings," just… you know, discuss it without unreasonable spoilers.
My take: it's pretty dumb. As an action movie, it's fun, and there are some great effects in it, but the way the premise plays out is like is about as sophisticated as an eight year old wishing for world peace. It just doesn't explore its ideas with any depth.
I wouldn't say Elysium is District 9 all over again, personally, but some critics have, so I thought I'd make Jason think that. In any case, District 9 is the smarter movie, the more engaging movie, and the better action movie because of it.
(I think they're different enough, but I think a lot of people were hoping Elysium would be as different from District 9 as District 9 was from… well, every science fiction movie before it. Except for maybe Alien Nation. What we got was… very much a companion piece. I hope Neill Blomkamp stretches his range a little bit more next time around.)
Please be sure to check out the post below re: Multiplex T-shirts and being a model and whatnot!
Multiplex News & Updates
Bonus comics, drawings, and
other awesome stuff
Thursday, June 15, 2017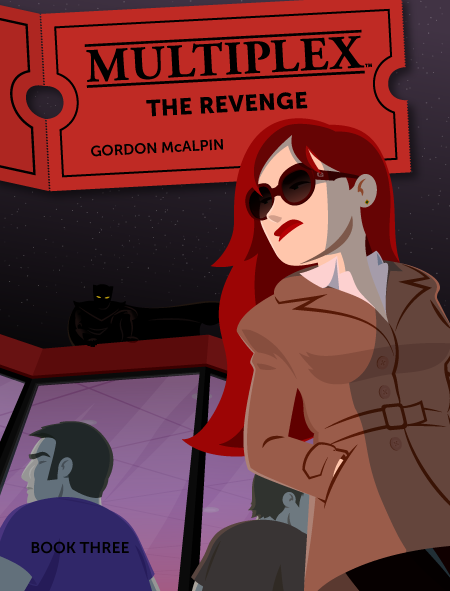 Multiplex: The Revenge (Book Three) is now available in the Multiplex Store! (Only regular/unsigned editions are available at this time; I'll add artist's editions once all of the Kickstarter rewards have been fulfilled.)
Multiplex: The Revenge collects chapters 11–15 of the series (strips #217–338, which ran from March 2008 to March 2009), plus over 30 bonus comics — including an all-new stories sets on opening night of The Dark Knight and Zack Snyder's Watchmen! If you miss Multiplex and would like to see more with these characters, the book collections are for you.
Head on over to the Multiplex Store and check it out today!
Other Recent Posts