Notes from the Manager
Related Strips: #874: The Spirit of the Season
Probably one more strip in this chapter, unless I change my mind about something! Which happens.
As for this strip, I wanted to have Norma slip in a comment about how the customer really only wanted free passes anyway, but there wasn't any room. Speaking from experience, if you complain about something, it's pretty easy to get free passes.
With me, when I complain about something, it's almost always a presentation thing, and I really just want them to fix the problem and/or never let it happen again. Yet almost every multiplex I've been to in Chicago or Minneapolis, I've had to complain about the presentation: either too-dark screens (old bulbs), focus issues, 3D ghosting/crosstalk, or sound problems.
Most recently, a small two-screen theater in Minneapolis had focus issues and a too-dark screen when I saw Frozen. I fired off a (polite) complaint to the management, and along with an apology and an explanation that it was improperly cleaned porthole glass that caused the issues — the first I've heard of that issue. I also got a couple of passes mailed to me that I'm a little nervous about ever using. ("Sorry our movie presentation sucked; here's passes so you can see more movies here!" Hmm…)
Anyway. How about you guys? Have you ever complained about something to management at a theater? How did they respond?
SUPPORT GORDON McALPIN ON PATREON!
Although Multiplex has ended, thanks to readers like you on Patreon, the Multiplex 10 will stay open for business! I'll be posting bonus comics from future print collections, Multiplex Movie Review strips, updates on the upcoming Multiplex 10 animated short, and, of course, other non-Multiplex stuff.
In addition to the warm, soothing feeling of being a patron of the arts, Patreon supporters get access to free Multiplex eBooks, sneak previews of upcoming comics and other behind the scenes peeks, sketch giveaways, and more!
Multiplex News & Updates
Bonus comics, drawings, and
other awesome stuff
Saturday, April 29, 2017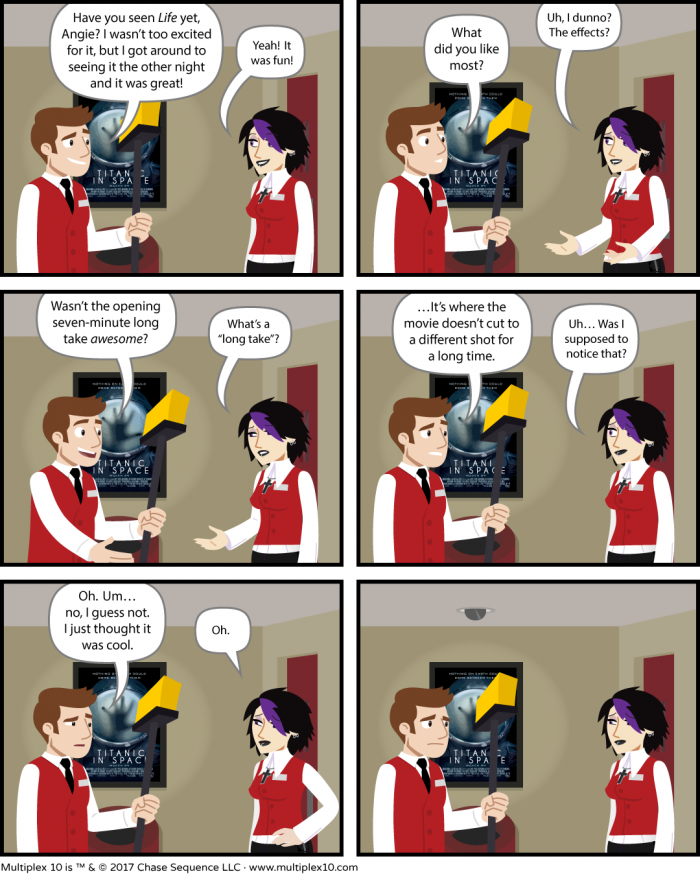 Angie, like Franklin, is another significant character from Multiplex who only gets a brief cameo in the pilot episode. So here she is in a Multiplex 10 comic strip.
At nearly $13,250 (as I write this), we're allllllmost at 90% funding with EIGHT DAYS to go. We need your support to make this pilot happen — and to help distribute it so that we can make more than just one episode! Check out the Multiplex 10 Kickstarter project page today! (Please.)
Also, in case you missed it, there were a couple of new… uh, I'm not sure how to refer to them. "Promo comics," I guess? The Multiplex 10 versions of Melissa & Becky and Franklin introduce themselves and talk about the animated short and one of the Kickstarter milestones, like the Kurt & Jason one I posted here a while ago. I posted those around the social medias and the separate, Multiplex 10-specific site, which some of you may not know about.
Other Recent Posts