#267: Secret Heart
August 11, 2008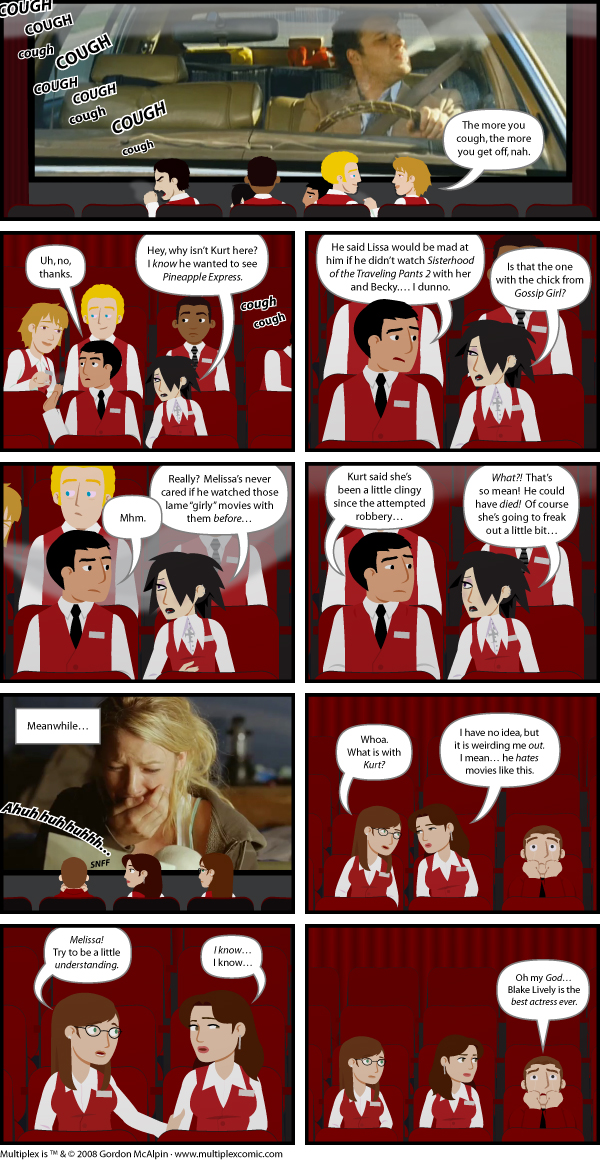 Notes from the Manager
Related Strips: #3: Girl Power; #84: Leaving on a Jet Plane; #89: More Than You Think; #265: A Poster Is a Poster Is a Poster
It's officially August in the Multiplex-verse now, so I've added the August Multiplex Examiner (previously a TopWebCmoics vote incentive) to link off of this page. The new TopWebComics incentive is an embiggened version of panel 1 from this strip.
Now that Multiplex and WOWIO have parted companies, you can now read the first (and only, so far) Multiplex eBook for FREE. You can read it online in your web browser thanks to Issuu. You can even read it full-screen! No registration, no downloads, no hassles — just comics. Essentially, it's just a different (better, in my opinion) way of reading through the first 24 strips from the archives, and with added material as well.
You cannot download the free Online Edition, but the High Definition Edition is still available for purchase, for those hardcore fans who want the highest-quality reproduction possible.
[NOTE: The Online Edition has since been moved here. You can download the HD PDF at the Multiplex Store.]
UPDATE: Live in Chicago? Want to see Don Cheadle's Traitor early? HollywoodChicago is giving away tickets!
A FRIEND IN NEED: My fellow cartoonist and Triple Feature MC Tom Brazelton (of Theater Hopper fame, of course) is in dire need of a bit of help after a massive hard drive failure has potentially wiped out five years of comics. If you've got a few bucks to spare and don't want the baby Jesus to cry, please go help a brother out. (Details about the circumstances and how to help out behind the link.)
How much Multiplex can you handle?!
Multiplex is made possible by Andrew Hathaway at Can't Stop the Movies and readers like you via Patreon, who contribute over $600 per month to keep Multiplex updating and ad-free.
In addition to the warm, soothing feeling of being a patron of the fine art of comic strippery, Patrons get access to free Multiplex eBooks, sneak previews of upcoming comics and other behind the scenes peeks, sketch giveaways, and more!
You can also support Multiplex by shopping at the Multiplex store — or at Amazon via these affiliate links: United States | United Kingdom | Canada
Deleted Scenes Blog
Bonus comics, drawings,
movie trailers and more
Saturday, May 28, 2016
Multiplex: Chapter 14 is now available! If you're a Kickstarter or Patreon backer, you have already been notified about this, but for those of you who aren't, you can get it from Gumroad superfast, or you can get it from the Multiplex Store. Either way supports the continued creation of Multiplex.
In Multiplex: Chapter 14, Jason reads a book while the Flickhead and Multiplex crews play more video games. This is some heavy shit here, broh! This volume collects strips #287–310 from the Multiplex archives, plus five bonus comics not found online!
I've probably mentioned this before, but I hope to continue making new Multiplex comics for these collections at about the same pace as the regular comic (two a week) over at Patreon, and then releasing the eBook collections with this material every 4–6 weeks or so. (And then funding a print collection through Kickstarter after all of the bonus material is finished — rather than funding the creation of that new material with the Kickstarter as I've done for the first three books.)
So just because the strip will be finished doesn't mean Multiplex is going to disappear entirely!
Other Recent Posts