#267: Secret Heart
August 11, 2008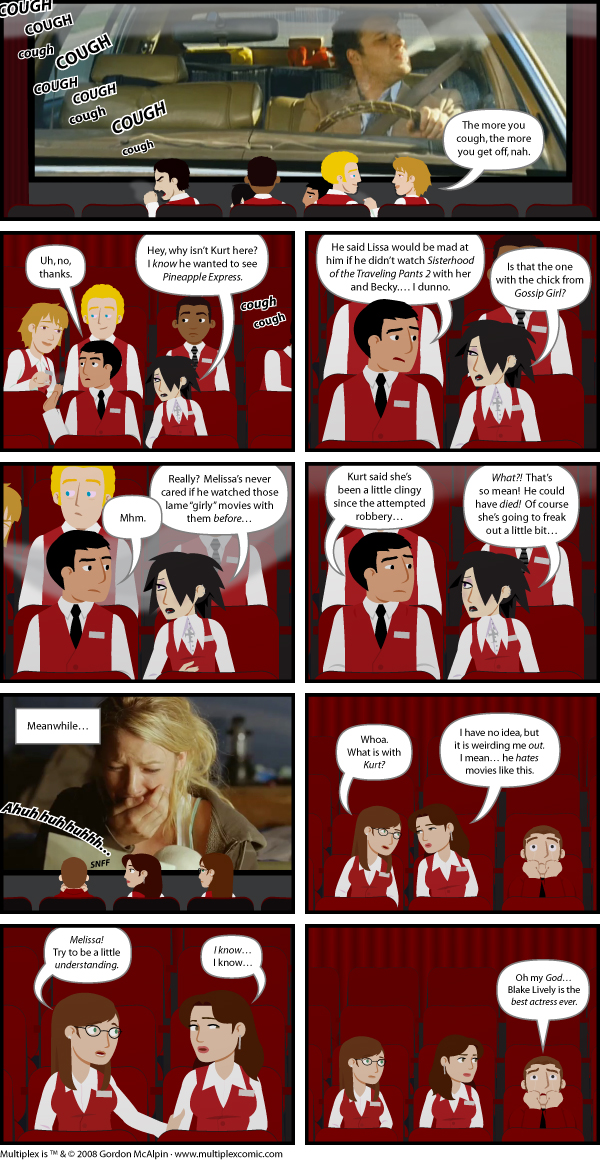 Notes from the Manager
Related Strips: #3: Girl Power; #84: Leaving on a Jet Plane; #89: More Than You Think; #265: A Poster Is a Poster Is a Poster
It's officially August in the Multiplex-verse now, so I've added the August Multiplex Examiner (previously a TopWebCmoics vote incentive) to link off of this page. The new TopWebComics incentive is an embiggened version of panel 1 from this strip.
Now that Multiplex and WOWIO have parted companies, you can now read the first (and only, so far) Multiplex eBook for FREE. You can read it online in your web browser thanks to Issuu. You can even read it full-screen! No registration, no downloads, no hassles — just comics. Essentially, it's just a different (better, in my opinion) way of reading through the first 24 strips from the archives, and with added material as well.
You cannot download the free Online Edition, but the High Definition Edition is still available for purchase, for those hardcore fans who want the highest-quality reproduction possible.
[NOTE: The Online Edition has since been moved here. You can download the HD PDF at the Multiplex Store.]
UPDATE: Live in Chicago? Want to see Don Cheadle's Traitor early? HollywoodChicago is giving away tickets!
A FRIEND IN NEED: My fellow cartoonist and Triple Feature MC Tom Brazelton (of Theater Hopper fame, of course) is in dire need of a bit of help after a massive hard drive failure has potentially wiped out five years of comics. If you've got a few bucks to spare and don't want the baby Jesus to cry, please go help a brother out. (Details about the circumstances and how to help out behind the link.)
Become a Multiplex patron
Multiplex is supported in part by Andrew Hathaway at Can't Stop the Movies
and readers like you via PATREON.
Patron rewards include:
• A free eBook every month (or so)!
• Multiplex Movie Reviews and
other bonus comics
• Character doodles!
• Invites to Google Hangouts!
• Sneak peeks at early and in-progress
strips and artwork!
• and MORE!
Deleted Scenes Blog
Bonus comics, drawings,
movie trailers and more
Wednesday, March 12, 2014
Jason explains everything you need to know about this bonus comic in the strip itself:
Other films reviewed to date are The Addams Family movies, The Lives of Others, Rubber, Get Real, and Transformers: The Movie. Some of them are kinda funny, some of them are actually serious, but they're all fun, I hope. Anyway, they were available to Kickstarter backers, of course, and now also my Patreon patrons in the Activity Stream — and since I enjoyed doing them, I going to keep doing them as exclusive Patreon bonus comics from time to time (and, yes, Kurt will get to do a review now and then, too).
So consider this a sneak preview of being a Patreon patron! Support Multiplex via Patreon to read the rest in the patrons-only Activity Stream — and whether or not you're already a patron, there's a movie you'd like to see Jason review, let me know here!
Other Recent Posts