#267: Secret Heart
August 11, 2008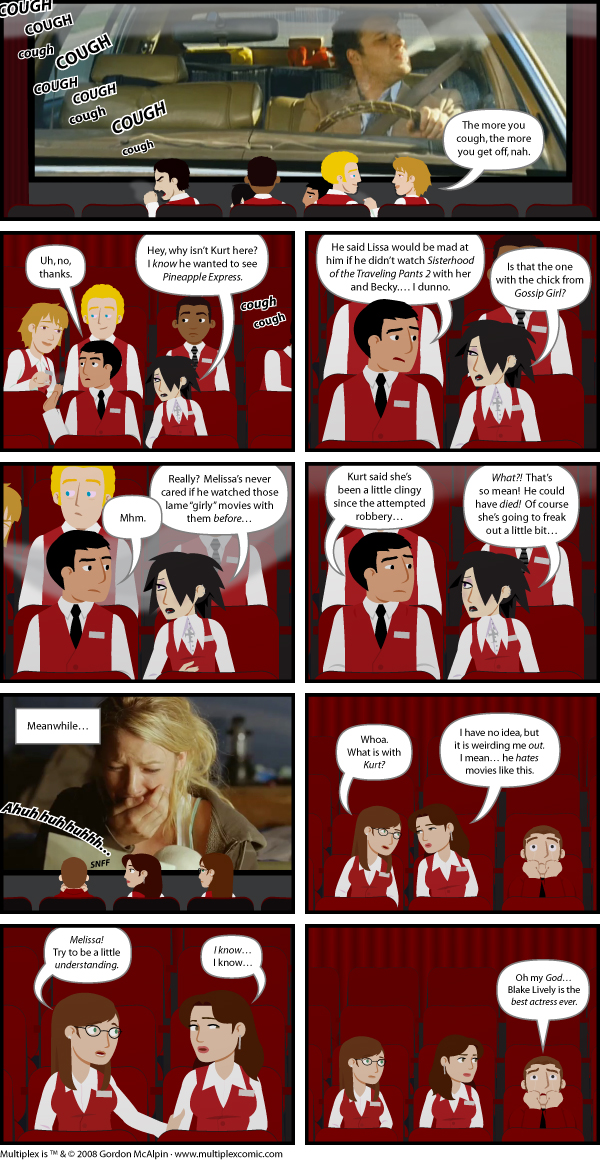 Notes from the Manager
Related Strips: #3: Girl Power; #84: Leaving on a Jet Plane; #89: More Than You Think; #265: A Poster Is a Poster Is a Poster
It's officially August in the Multiplex-verse now, so I've added the August Multiplex Examiner (previously a TopWebCmoics vote incentive) to link off of this page. The new TopWebComics incentive is an embiggened version of panel 1 from this strip.
Now that Multiplex and WOWIO have parted companies, you can now read the first (and only, so far) Multiplex eBook for FREE. You can read it online in your web browser thanks to Issuu. You can even read it full-screen! No registration, no downloads, no hassles — just comics. Essentially, it's just a different (better, in my opinion) way of reading through the first 24 strips from the archives, and with added material as well.
You cannot download the free Online Edition, but the High Definition Edition is still available for purchase, for those hardcore fans who want the highest-quality reproduction possible.
[NOTE: The Online Edition has since been moved here. You can download the HD PDF at the Multiplex Store.]
UPDATE: Live in Chicago? Want to see Don Cheadle's Traitor early? HollywoodChicago is giving away tickets!
A FRIEND IN NEED: My fellow cartoonist and Triple Feature MC Tom Brazelton (of Theater Hopper fame, of course) is in dire need of a bit of help after a massive hard drive failure has potentially wiped out five years of comics. If you've got a few bucks to spare and don't want the baby Jesus to cry, please go help a brother out. (Details about the circumstances and how to help out behind the link.)
Donation Links: Help support the strip via PayPal or Dwolla — or buy something from The Multiplex Store!
Deleted Scenes Blog
Bonus comics, drawings,
movie trailers and more
Thursday, December 5, 2013
They're showing all kinds of too much in this teaser trailer, I think, but it looks pretty great… despite the stupid character designs on the villains. (I was one of those people who enjoyed Marc Webb's first Spider-Man flick quite a bit; the major clunky parts being where they seemed to think they needed to change up Uncle Ben's death and other bits of canon, just to make it different from Raimi's version.)
Bonus points: this is the best Spidey's costume has ever looked in film. I hope Sony never changes the suit again (unless they do the black costume for a movie or two).
Amazing Spider-Man 2 hits theaters on May 2, 2014.
Other Recent Posts