Notes from the Manager
Related Strips: #226: Agree to Disagree?, Part One; #227: Agree to Disagree?, Part Two; #228: Agree to Disagree?, Part Three; #229: Flies, Vinegar, and Honey; #230: Life, the Universe, and Everything; #232: Blind Faith
The sequel no one demanded! This is a three-parter, so come back Wednesday and Friday — or come back next Monday if you hated the Expelled strips, because this is, in some ways, more of that.
Bill Maher's Religulous (now out in limited release) is actually very funny for the first hour or so, until it turns its attention to Islam, where Maher loses almost all of humor and levity that was so pervasive in the first hour (even to a fault, occasionally). Then he caps it off with a heavy-handed anti-religious diatribe that feels both unnecessary and poorly fit with the rest of the movie.
The funny parts and the legitimately thought-provoking parts still make it very much worth seeing, I think, but it is disappointing that he doesn't really give religion a fair chance to refute his main point: that religion is inherently ridiculous and harmful to society. He interviews no theologians and no Biblical scholars. Perhaps the layman's religious beliefs are really more relevant than those of a scholar, but it's a perspective he doesn't even consider. It's worth noting that he did contact a few real authorities at a few churches (i.e., the Pope and the head of the Mormons), but was refused interviews with them.
Of the people in the film, only a handful — of any religion — come off as particularly sane, and even one of them (a senior Vatican priest) is a bit nutty. The all-too-brief highlight of the film, for me, was the chat with the Vatican astronomer, who comments about the (so-called) "literal" interpretations of the Old Testament and decries the fundamentalist insistence on using the Bible as a scientific text. I would be eager to see a film really examine just that point alone for two hours.
Complaints from some people that Maher and director Larry Charles (Borat) edited his interviewees come off as crazier than they really are is a cop-out, however: he doesn't really bait anybody into saying or doing anything. He asks questions, and they answer. He does make fun of more than a few of them to their face, but the words coming out of some of their mouths is impossible to explain away by baiting. (Even if he did bait them, they still said it.) The nutty religious people on-screen really do believe what they're saying, and these people really do exist. In mass numbers.
Anyway.
But wait! There's more!
Although Multiplex will be ending soon, thanks to readers like you on Patreon, the Multiplex 10 will stay open for business! I'll be posting bonus comics from future print collections, Multiplex Movie Review strips, updates on the upcoming Multiplex animated short, and, of course, other non-Multiplex stuff.
In addition to the warm, soothing feeling of being a patron of the fine art of comic strippery, Patrons get access to free Multiplex eBooks, sneak previews of upcoming comics and other behind the scenes peeks, sketch giveaways, and more!
You can also support Multiplex by shopping at the Multiplex store — or at Amazon via these affiliate links: United States | United Kingdom | Canada
Deleted Scenes Blog
Bonus comics, drawings,
movie trailers and more
Friday, February 17, 2017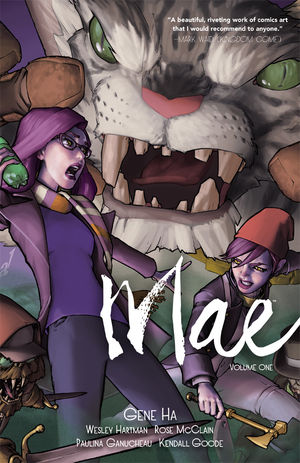 Heads up, completists. I have a three page story in the new Mae Volume One TPB from Dark Horse Comics. This is the same one I co-wrote (with Mae creator Gene Ha) and as a thank-you for backers of its original Kickstarter edition — and Dark Horse's editors decided to include the story in the back matter of this new collection, along with a bunch of other short stories by other great creators.
BUT… I have a story in a Dark Horse-published book! That's cool!
If you're not familiar with Mae, it's an all-ages adventure comic by Gene Ha (Top Ten and a billion other comics). Here's the official Dark Horse synopsis:
When she was just a girl, Abbie discovered a portal to a fantasy world and has since had great adventures there: defeating horrible monsters, power-mad scientists, and evil nobles. But when she turned twenty-one it all came apart and she decided to return home. Her sister, Mae, had no idea what happened to Abbie all this time, and Abbie's tales are too hard to believe—that is, until the monsters and other terrible creatures start to cross over to our world . . . Collects issues #1–#6.
I highly recommend it. It is a lot of fun. You can learn more about Mae Volume One on Amazon.
Other Recent Posts