Notes from the Manager
Related Strips: #308: Twilight of the Nerds; #339: Must Have the Precious; #340: But It's Mine; #341: The Rules of the Game; #342: Ulterior Motives
Tune in LIVE to the Triple Feature tonight at 9:00 PM Central, to hear Tom, Joe and I shoot the shit about Monsters vs. Aliens and probably some other stuff. If you've always wanted to ask the three of us a question, we regularly answer reader/listener questions on the show — just shoot us an e-mail at group (at) thetriplefeature.com.
If you can't make it for the live recording, don't forget that you can always download the show as a podcast through iTunes — it's free, and believe me, you get what you pay for with the three of us. 100% professionals, we are. ahem
Anyway.
So! We have a bit of a contest — a Multiplex/Night Projectionist Give-away! Those of you who have been paying attention noticed the copy of The Night Projectionst #1 in the last few strips, and writer Robert Heske has been kind enough to sign three copies for me to give to three lucky winners. (You'll also get a free copy of the Multiplex eBook: HD Edition #1 not signed by anybody, but that's really old, so whatever.)
But I couldn't just give it away to three random people, no. Drawing inspiration from today's Multiplex strip, I want you to go to the Multiplex Forum (sign up if you have to) and share the story of your Creepiest Date Ever. You can use the term "creepy" loosely, if you want — just make it an interesting story. The three best stories before NEXT MONDAY will get copies of the comic(s). See additional rules in the forum post.
(If you don't win, don't feel bad — you can still read The Night Projectionist Noir online every week.)
Multiplex News & Updates
Bonus comics, drawings, and
other awesome stuff
Saturday, May 27, 2017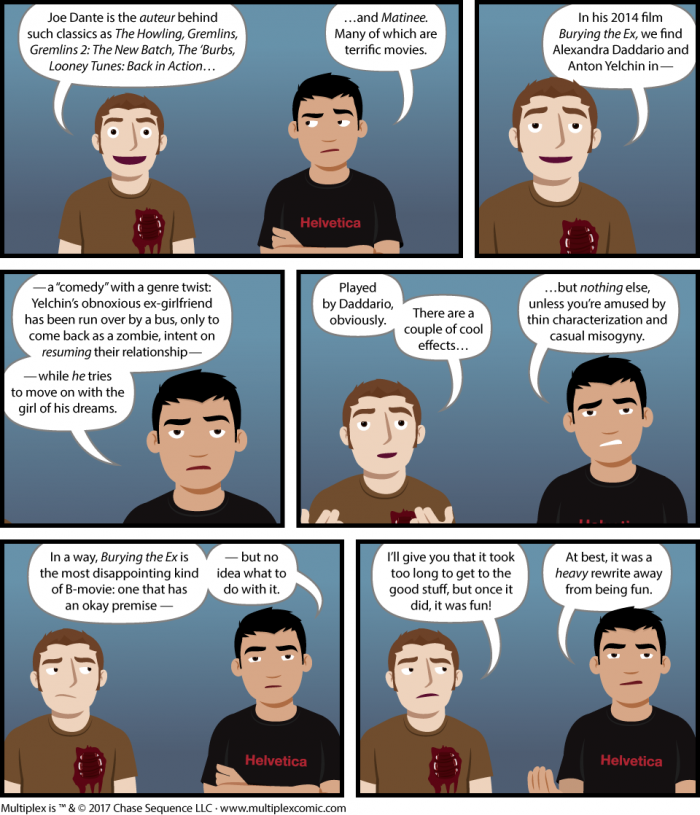 Hello, Multiplex readers!
A quick update on what's going on with everything Multiplex-related:
The storyboards for the Multiplex 10 animated short are DONE. Rough, but done. Pre-production continues for the next few weeks with the construction/editing/etc. of the first rough animatic and design/illustration work.
Although the Kickstarter project has ended, you can still support the project (or my comics work) by becoming a Patreon patron or making a one-time PayPal donation.
Multiplex: The Revenge (Book Three) is being shipped out to Kickstarter backers and will be available for purchase to everyone else on June 14th — as will the Multiplex mini-posters set.
I will be at Wizard World Philadelphia (Friday–Sunday only) with copies of Book Three, so if you're in that neck of the woods, you can get it a little early. :)
Multiplex Movie Reviews like this one, bonus comics from Multiplex: The Best Laid Plans (Book Four), and other stuff are being exclusively posted to Patreon a couple of times a week. Er, except for this one, obviously.
Other Recent Posts