Notes from the Manager
Related Strips: #139: Rage! Redux!; #190: Afraid to Dye
We have two milestones to celebrate today:
(1) Multiplex has hit #400! I don't make a fuss about these round-number milestones, because I've done so many unnumbered bonus strips that I've really already done more than 400 Multiplex strips, but some of you guys dig them. So hooray.
(2) The Multiplex Kickstarter project has reached the half-way mark! In the build-up to reaching the half-way mark, I announced (via Twitter and Facebook) a little bonus reward thing where anybody who pledged before Thursday (Wednesday night at midnight) was entered into a random drawing to win one of five printed and signed copies of the Multiplex: Chapter 1 comic. (Not to be confused with the Mutliplex: Book 1 collection that the Kickstarter project is funding. The Chapter 1 print comic is basically the first eBook, except on paper.)
I hadn't planned on us actually reaching the half-way mark before Monday, but… well, we did. In just three weeks!
Anyway, so if you pledge ANY amount between now and Thursday, you'll be eligible to win one of five copies. (Note that these aren't yet printed, so they won't get shipped out for a while. They will eventually be available in the Multiplex Store, as well.)
This means, of course, that we have another $3750 $3700 to raise in about ten weeks. But don't let the pledges die off now! Even if you don't win a copy of the Chapter 1 print comic, there will be more drawings for more free stuff in the future, and any backer will be eligible (unless you've already won something, or you're related to me, or you're a close personal friend of mine whom I think should be ineligible because it wouldn't be fair to my regular readers).
Don't forget, there's are also coupon codes for a free copy of the Chapter 1 HD edition and $2 off any of the T-shirts in the Multiplex Store for all past, present, and future Kickstarter backers, so you've got all sorts of reasons not to hesitate and pledge today!
Other less exciting news is that, alas, there will not be a Triple Feature tonight. Tom's had another hard drive failure and so his computer is basically/entirely out of commission, and I have stitches in my tongue, so I can't talk for extended periods of time very comfortably. Pain killers help. (They do not help me concentrate in order to draw comics, however.)
The stitches, in case you are curious, are from a biopsy. I have a white spot on my tongue that my dentist and doctor wanted to have checked out. There is a 95% chance of it being benign, so let's not make a big deal about it; I'll let you all know what's up when I know what's up. The most annoying part of it is, I also have a cold. So like just when I need to be gorging myself with lots of hot food, that's the last thing I want to put in my mouth. :1 Such is life.
Anyway! There will be three updates this week. (You gotta know what happens to Jason, right?) So, I'll see you on Wednesday!
Multiplex News & Updates
Bonus comics, drawings, and
other awesome stuff
Saturday, July 1, 2017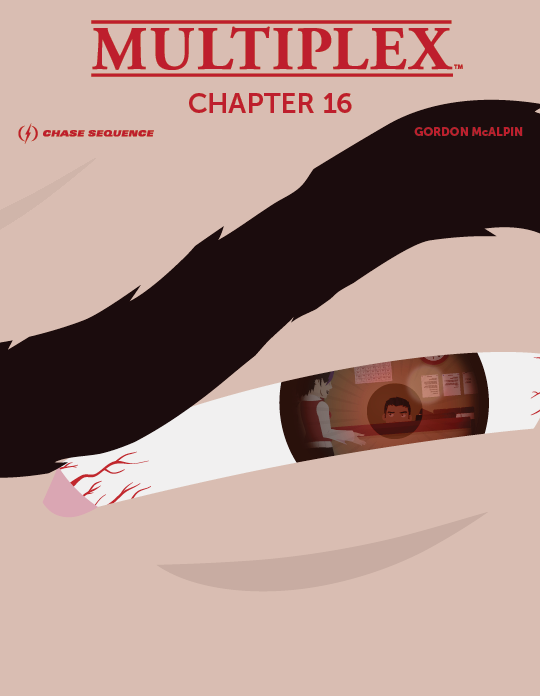 $3+ Patreon supporters get this one for free (until the next eBook is available), but for the rest of youse: The Multiplex: Chapter 16 eBook is now available!
Chapter 16 collects strips #339 –362 from the Multiplex archives, plus four bonus comics and one "extended scene" not found in the archives! Chapter 16 costs $1.99.
Supporting the Multiplex chapter eBooks helps make future Multiplex print collections possible. Thank you for your support!
Other Recent Posts