Notes from the Manager
Related Strips: #100: Another Fine Mess…
I'd really like to push for the $10,000 level over these next couple of weeks, so that more of the print run is covered by the Kickstarter funds.
Towards that end, for every $250 we raise above $8500 I'll be giving away a free copy of the Multiplex/Memento parody mini-poster and a set of five buttons to one lucky backer. If we reach $10,000 by the time the strip goes up on November 12th, though, I'll give away ten copies. [NOTE: if you've already pledged, you are already eligible — but if you want to increase your chances of winning, you can always increase your pledge!]
That's ten days to raise $1,255 — that's actually less than we've averaged to date, so I'm sure we can do it.
Oh yeah: this week's strips are all set on Halloween night. (I'm always a little behind my holidays.) I'm not 100% sure if it'll be a three-parter or not just yet, though. Check back Thursday either way, then, and if it is a three-parter, then you'll have a bonus on Friday. (You could also subscribe to the RSS feed or follow my Twitter account, y'know.)
UPDATE (11/3): Here's a bonus strip for you today, though — but only if you're a Kickstarter backer. The second part of the "Hostile Makeover" story explaining Becky's redesign is up as the latest Kickstarter update. As with the previous one, it's set after #42 in the archives and will appear in the the second eBook, as well as the Multiplex: Book 1 collection, of course. The third strip in this series will be back at the Multiplex 10 and hopefully come a lot quicker. (You see why I need time off of work to finish the print book, now, don't you? Because with a day job and the regular update schedule, it would take me years to get the bonus material finished.)
UPDATE (11/4): Looks like there will only be one more regular update this week (but it's a long one). It'll post Thursday, possibly Friday.
UPDATE (11/5): Ran out of time (and energy), so #411 will post on Friday (or late Thursday night). Sorry! There is that bonus strip over at the Kickstarter update page, though. Pledge $1 and read it, then come back tomorrow. :) [Don't forget that if you pledge, you get access to all the bonus content/updates, including the first two eBooks for free — even if you just pledge $1. The second one isn't out yet, mind you. Soon!]
I would also like to point out that this is the first update I've totally missed in about two years. So nyeah.
Multiplex News & Updates
Bonus comics, drawings, and
other awesome stuff
Saturday, July 1, 2017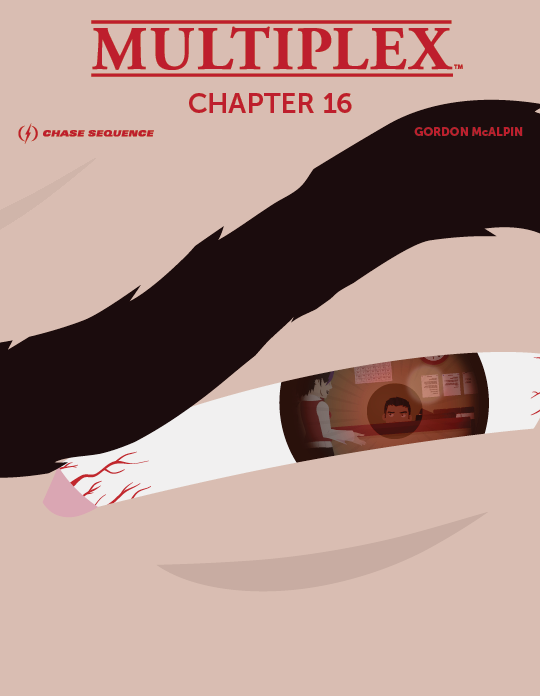 $3+ Patreon supporters get this one for free (until the next eBook is available), but for the rest of youse: The Multiplex: Chapter 16 eBook is now available!
Chapter 16 collects strips #339 –362 from the Multiplex archives, plus four bonus comics and one "extended scene" not found in the archives! Chapter 16 costs $1.99.
Supporting the Multiplex chapter eBooks helps make future Multiplex print collections possible. Thank you for your support!
Other Recent Posts