Notes from the Manager
Related Strips: #454: The Best Laid Plans, Part One
Yes, the screen in two of the Davis's theaters are actually at an angle: here's (photo of) a diagram of the theaters' layouts for evidence. I have no idea why they did that. Possibly because of the fire exits next to them…? Just a guess. It bugs the hell out of me when I end up seeing movies there.
I don't want these strips to seem like I'm knocking the Davis Theater owners, managers, or staff, by the way. It's a small, independent theater, and the current owner and management had nothing at all to do with the original theater getting chopped up, or the screens being at an angle. They're doing a great job with what they've got — and they were obviously kind enough to let me take photos inside it — and the absolute last thing in the world I would want is for anyone to not support an independent theater on my account.
There will be one last strip in this arc (and this chapter, and this book).
Also, those of you who aren't in the Club of Awesome may be interested in knowing that I'm one bonus strip and one bio page (for Gretchen) away from being done with the Chapter 4 eBook. Then — on to Chapter 5. And THEN… the Star Wars: Revenge of the Sith prequel comic and off to the printer. I'm guessing I'll be about a month behind schedule, all told. Hopefully that won't impact the availability date much.
This whole book thing is going a bit slower than I'd hoped, partly because of things like… oh, deciding to take significantly more time on the art with the regular updates than I usually allow myself. :1 Ah well. I hope you've been enjoying the strip lately! 'Cause I have.
Multiplex News & Updates
Bonus comics, drawings, and
other awesome stuff
Thursday, June 15, 2017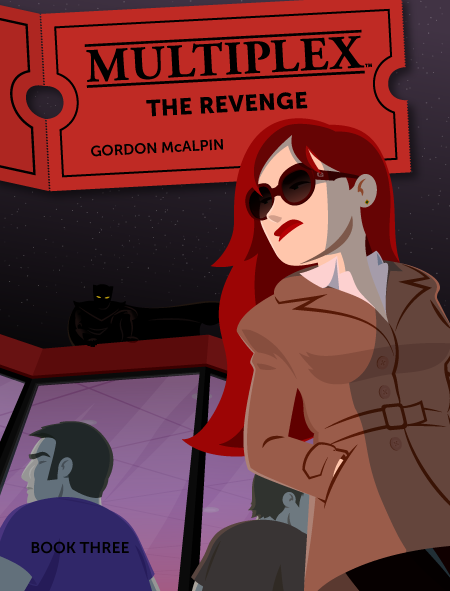 Multiplex: The Revenge (Book Three) is now available in the Multiplex Store! (Only regular/unsigned editions are available at this time; I'll add artist's editions once all of the Kickstarter rewards have been fulfilled.)
Multiplex: The Revenge collects chapters 11–15 of the series (strips #217–338, which ran from March 2008 to March 2009), plus over 30 bonus comics — including an all-new stories sets on opening night of The Dark Knight and Zack Snyder's Watchmen! If you miss Multiplex and would like to see more with these characters, the book collections are for you.
Head on over to the Multiplex Store and check it out today!
Other Recent Posts