Notes from the Manager
Short one this time!
In case you weren't aware, Avatar director James Cameron "was among a group of scientists and other experts who met Tuesday with officials from the Environmental Protection Agency and other federal agencies for a brainstorming session on stopping the massive oil leak"; he is "considered an expert on underwater filming and remote vehicle technologies," according to the Washington Post. Despite the snarky undertones of this strip, I think anyone who's read an in-depth interview with Cameron knows that the man knows his technical stuff inside-out.
Here's a decent article from Vektorrum with a little background about Jim Cameron the inventor. It notes that Cameron is "collaborating on the design and construction of a new deep sea exploration vessel that will explore the Marianas Trench in the South Pacific." Yeah, he might be worth having in the room while people brainstorm ways to fix the leak.

Dances with Wolves director Kevin Costner, for his part, was motivated by the 1989 Exxon Valdez disaster to help fund a consortium of scientists dedicated to developing technology that "mitigates oil-infected water before it hits the coast." He has invested $24 million of his money to help develop a centrifugal oil separator that BP says it will test soon.
---
So yeah! I've recently updated the Kickstarter backers, but thought I would share some of the same information for you:
Month four of the two months off from taking any other freelance work has begun, I'm sad to say. :1 As I've mentioned before, to say that I vastly underestimated how much time it would take to complete the new material for the book is a big understatement. The prequel story is proceeding, however — I've got the script where I'm happy with it, and I'm starting to draw it.
I've got backgrounds dropped in for many of the pages and I'm getting the main characters in place, so that I know where I'll be dropping in the reader cameos (and other background characters). Kickstarter backers will get sneak peaks at the story, but as I've also said before, this story is exclusive to the print book, so no one's seeing the whole thing until the book is out.
Speaking of which, I am still confident that it will be in my hands (and yours, soon after) this fall, thanks to finding a US-based printer that was within my printing budget. Their significantly faster turnaround compared to the Chinese printers will hopefully balance out my own delays.
However. Since I've gone a month longer than I'd budgeted for (and counting!) with the Kickstarter project and Multiplex does not currently bring in enough money to pay all of my bills — as you can imagine, my living expenses are spreading a bit thin. Because of this, I've reluctantly added a little button for PayPal donations at the main site (as you may or may not have noticed already). For those of you who aren't already Kickstarter backers, please consider making a SMALL donation — or buying something from the Multiplex Store to help support the strip just a little bit longer. Hopefuly the print collection will make Multiplex a self-sustaining business, of course, because I would love to continue doing the strip full-time — and be able to leap straight into the second print collection. :)
PayPal donors (in any amount) will get access to an exclusive desktop picture featuring Melissa from the prequel story in a Slave Leia costume. You can see a little preview in the right sidebar, on the new PayPal donation button. It's similar to the Tinkerbell desktop pic of Sunny. It's not PG fan service, I swear — it's just nerdy! I'll update the desktop pics periodically, of course, to encourage you to keep supporting the strip.
Thank you all for reading!
SUPPORT GORDON McALPIN ON PATREON!
Although Multiplex has ended, thanks to readers like you on Patreon, the Multiplex 10 will stay open for business! I'll be posting bonus comics from future print collections, Multiplex Movie Review strips, updates on the upcoming Multiplex 10 animated short, and, of course, other non-Multiplex stuff.
In addition to the warm, soothing feeling of being a patron of the arts, Patreon supporters get access to free Multiplex eBooks, sneak previews of upcoming comics and other behind the scenes peeks, sketch giveaways, and more!
Multiplex News & Updates
Bonus comics, drawings, and
other awesome stuff
Saturday, April 29, 2017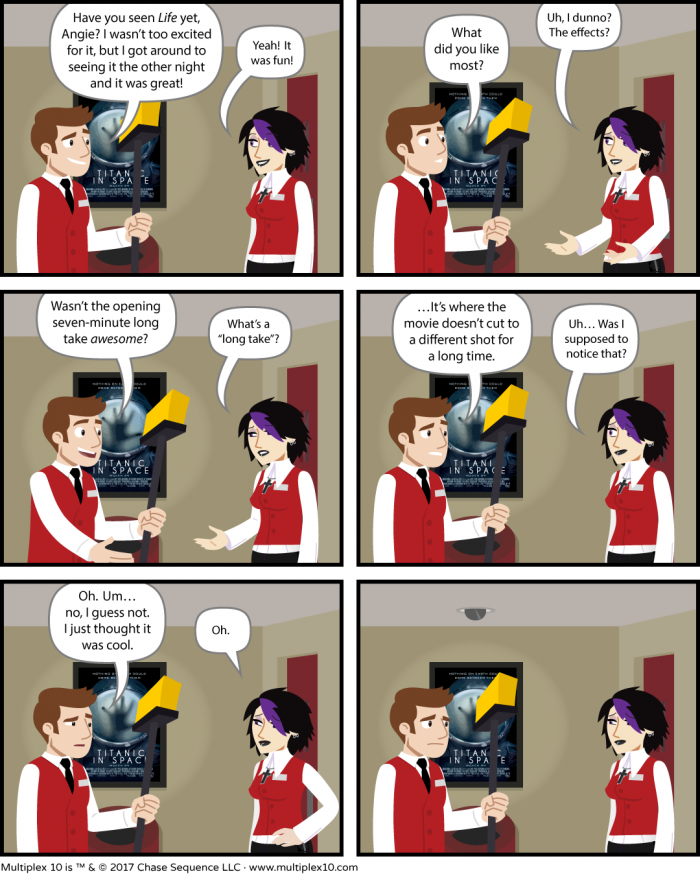 Angie, like Franklin, is another significant character from Multiplex who only gets a brief cameo in the pilot episode. So here she is in a Multiplex 10 comic strip.
At nearly $13,250 (as I write this), we're allllllmost at 90% funding with EIGHT DAYS to go. We need your support to make this pilot happen — and to help distribute it so that we can make more than just one episode! Check out the Multiplex 10 Kickstarter project page today! (Please.)
Also, in case you missed it, there were a couple of new… uh, I'm not sure how to refer to them. "Promo comics," I guess? The Multiplex 10 versions of Melissa & Becky and Franklin introduce themselves and talk about the animated short and one of the Kickstarter milestones, like the Kurt & Jason one I posted here a while ago. I posted those around the social medias and the separate, Multiplex 10-specific site, which some of you may not know about.
Other Recent Posts