Notes from the Manager
Related Strips: #501: You What, Part One; #502: You What, Part Two
If you were scared by the long note on Monday, you may have missed the bit about me mentioning sort-of launch of the new Deleted Scenes blog here. Yesterday's update featured one of the custom comics I did for super-generous Kickstarter backers, and it featured the girls of Multiplex acting a bit oddly about a visitor to the theater. Check it out, if you haven't already! Even though it's not in continuity, it's still a Multiplex strip!
I don't want to count my chickens before they hatch or whatever, but it looks like I may have found a distributor for Multiplex: Enjoy Your Show. I'll let you know as soon as the ink is dry. So the chances of seeing the book at Amazon and in comics shops and bookstores around the US and Canada are, I think, a fair bit higher. I'll let you know more as soon as I know more.
This doesn't affect the Multiplex website's sales, of course — which I naturally make a significantly larger cut — as in the entire cut, so buying directly from me will always be the best way to support the strip.
Whether or not this is finalized, the promotional thingy still stands, no matter what — if I get 250 pre-orders before September 18th, everyone who has pre-ordered gets a free Multiplex bookmark.
Multiplex News & Updates
Bonus comics, drawings, and
other awesome stuff
Thursday, June 15, 2017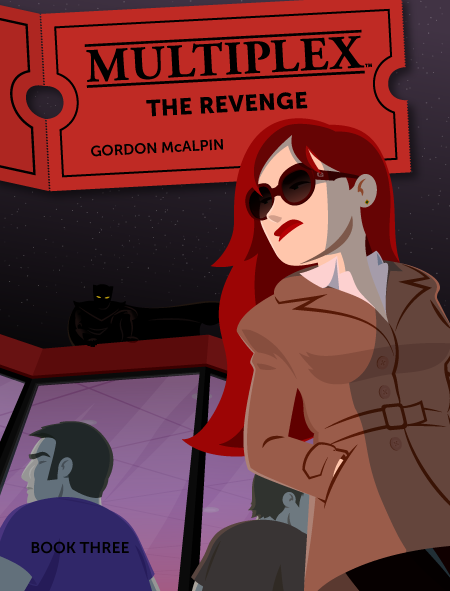 Multiplex: The Revenge (Book Three) is now available in the Multiplex Store! (Only regular/unsigned editions are available at this time; I'll add artist's editions once all of the Kickstarter rewards have been fulfilled.)
Multiplex: The Revenge collects chapters 11–15 of the series (strips #217–338, which ran from March 2008 to March 2009), plus over 30 bonus comics — including an all-new stories sets on opening night of The Dark Knight and Zack Snyder's Watchmen! If you miss Multiplex and would like to see more with these characters, the book collections are for you.
Head on over to the Multiplex Store and check it out today!
Other Recent Posts