Notes from the Manager
Related Strips: #513: So Serious; #514: A Flesh Wound; #515: Up and At 'Em; #517: Too Young
We're cutting away from the Mexican soap opera to pay some attention to the new recruits at the Multiplex 10, plus Calvin, who hasn't been seen in a while, but was once the new guy himself — and a bit of a cranky one. But as long-time readers know, he lightened up, eventually.
(And, yeah, the title of this two-part strip is probably a bit of a spoiler — but come on, these strips are basically horror movie parodies; you know what's going to happen, you just don't know how it's going to happen).
The last few strips caused a bit of controversy in the comments field, and I'm half afraid that this strip will do the same, since I brought up one of the great political arguments of our time: "soda" vs. "pop." I say "soda," personally, but I'm also not a Chicago native; apparently people from here say "pop." What do YOU say?
See you Monday, and have a safe Halloween. I know I will: I'm staying home to watch The Walking Dead.
Multiplex News & Updates
Bonus comics, drawings, and
other awesome stuff
Thursday, June 15, 2017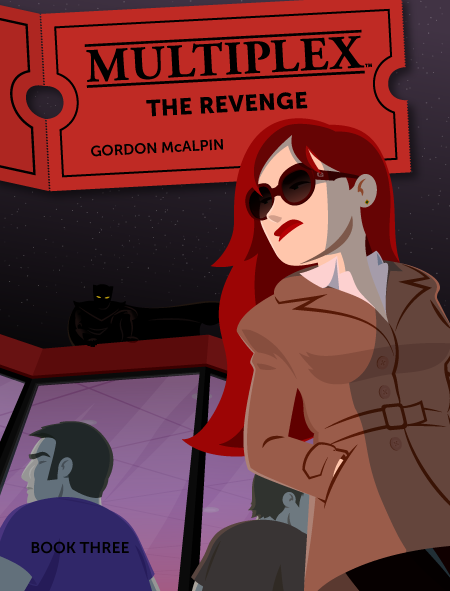 Multiplex: The Revenge (Book Three) is now available in the Multiplex Store! (Only regular/unsigned editions are available at this time; I'll add artist's editions once all of the Kickstarter rewards have been fulfilled.)
Multiplex: The Revenge collects chapters 11–15 of the series (strips #217–338, which ran from March 2008 to March 2009), plus over 30 bonus comics — including an all-new stories sets on opening night of The Dark Knight and Zack Snyder's Watchmen! If you miss Multiplex and would like to see more with these characters, the book collections are for you.
Head on over to the Multiplex Store and check it out today!
Other Recent Posts