Notes from the Manager
Related Strips: #27: Merry Christmas from Multiplex; #103: Deck the Halls with Déjà Vu; #311: Exactly Like the Holidays
On a mostly unrelated note, The Weinstein Company is "developing" a sequel to Bad Santa. Okay, it's my favorite Christmas movie ever and all, but… really? (Also on their list of "properties" to enfranchise: Rounders and Shakespeare in Love.)
By the way, I did a guest strip for Shortpacked! (To any new readers from Shortpacked!: please start from the beginning. The comic makes way more sense that way. Don't feel intimidated by all the movie chatter; Multiplex is about movies in the same way Shortpacked! is about toys — which is to say, you don't need to be a big nerd about 'em to enjoy the comic. Or, at least, I'm not into toys, but I love Shortpacked!, so I don't think you do.)
I've had a few promised guest strips go up in smoke, so anyone interested in doing one — or writing a script for one — please drop me a line for the rules and regulations! I will be drawing (by hand) the best script that gets sent to me in the VERY near future, sometime later this week. As an added bonus, if I draw your script, I'll send you the original art!
Multiplex News & Updates
Bonus comics, drawings, and
other awesome stuff
Thursday, June 15, 2017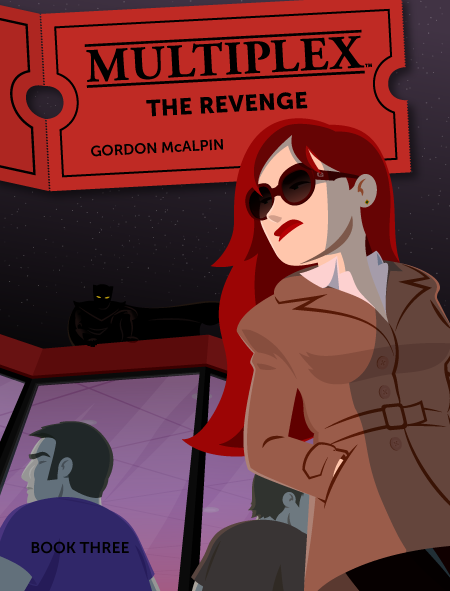 Multiplex: The Revenge (Book Three) is now available in the Multiplex Store! (Only regular/unsigned editions are available at this time; I'll add artist's editions once all of the Kickstarter rewards have been fulfilled.)
Multiplex: The Revenge collects chapters 11–15 of the series (strips #217–338, which ran from March 2008 to March 2009), plus over 30 bonus comics — including an all-new stories sets on opening night of The Dark Knight and Zack Snyder's Watchmen! If you miss Multiplex and would like to see more with these characters, the book collections are for you.
Head on over to the Multiplex Store and check it out today!
Other Recent Posts