Notes from the Manager
Related Posts: #27: Merry Christmas from Multiplex; #103: Deck the Halls with Déjà Vu; #189: This Perfect Christmas Holiday
You'll notice two new buttons in the sidebar:
1) A mini-button for Is It Funny Today?, a new comics ranking website. Multiplex is listed with them as a story strip, so that question is really "Is It Good Today?" but whatever. Please vote there whenever you feel like it, and of course poke around their site, while you're at it; you're likely to find some great comics.
2) The return of the PayPal donation button, just in time for Christmas. ;) Multiplex pulls in a tidy sum from ad revenue, but if you're one of those types who has ad blocking software (kidding), or you just want to help me get closer to putting out the long overdue Multiplex eBook #2 (to say nothing of a print collection), it would be greatly appreciated. (Alternatively to simply making a donation, you can buy the first eBook in the Extras section and get a little something for your money.)
In other news, Trish and I are actively seeking a third co-blogger for Movie Make-out. If you want to get paid a pittance to write about movie news — not reviews, mind you — drop me a line and I'll send you the details. (If you've already sent in samples, don't worry; we're not going to settle on anybody until after the first of the year at the soonest. You're not out of the running yet.)
Stay warm out there, y'all. See you Thursday.
But wait! There's more!
Although Multiplex will be ending soon, thanks to readers like you on Patreon, the Multiplex 10 will stay open for business! I'll be posting bonus comics from future print collections, Multiplex Movie Review strips, updates on the upcoming Multiplex animated short, and, of course, other non-Multiplex stuff.
In addition to the warm, soothing feeling of being a patron of the fine art of comic strippery, Patrons get access to free Multiplex eBooks, sneak previews of upcoming comics and other behind the scenes peeks, sketch giveaways, and more!
You can also support Multiplex by shopping at the Multiplex store — or at Amazon via these affiliate links: United States | United Kingdom | Canada
Deleted Scenes Blog
Bonus comics, drawings,
movie trailers and more
Friday, February 17, 2017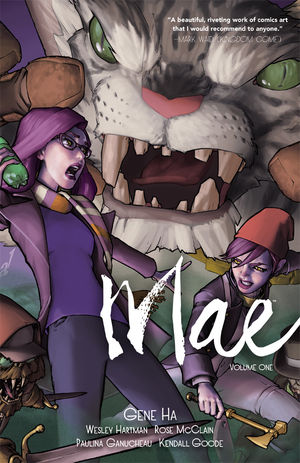 Heads up, completists. I have a three page story in the new Mae Volume One TPB from Dark Horse Comics. This is the same one I co-wrote (with Mae creator Gene Ha) and as a thank-you for backers of its original Kickstarter edition — and Dark Horse's editors decided to include the story in the back matter of this new collection, along with a bunch of other short stories by other great creators.
BUT… I have a story in a Dark Horse-published book! That's cool!
If you're not familiar with Mae, it's an all-ages adventure comic by Gene Ha (Top Ten and a billion other comics). Here's the official Dark Horse synopsis:
When she was just a girl, Abbie discovered a portal to a fantasy world and has since had great adventures there: defeating horrible monsters, power-mad scientists, and evil nobles. But when she turned twenty-one it all came apart and she decided to return home. Her sister, Mae, had no idea what happened to Abbie all this time, and Abbie's tales are too hard to believe—that is, until the monsters and other terrible creatures start to cross over to our world . . . Collects issues #1–#6.
I highly recommend it. It is a lot of fun. You can learn more about Mae Volume One on Amazon.
Other Recent Posts