Notes from the Manager
Related Strips: #565: What Price Victory?
In case you didn't watch the Oscars, yes, that's how this played out. How to Train Your Dragon lost to Toy Story 3 in Best Animated Feature, and John Powell's score for Dragon lost to Trent Reznor and Atticus Ross's The Social Network score. At the very least, Dragon lost to two very solid nominees.
To the non-winning nominees in the Best Original Screenplay, Best Director or Best Picture categories, I'm afraid I can't say the same. The King's Speech — which I enjoyed — had a perfectly contrived Oscarbait script, solid but unremarkable direction, and was a terrific film overall — but not one for the ages, like The Social Network or even the dark horse nominee, Winter's Bone. It was this year's Shakespeare in Love… and, apparently the Academy agreed. Alas.
If you watched the show, who were you rooting for that either got the Oscar or didn't?
SHIRTS ON SALE! I have a clearance sale on all of the T-shirts in my store, because… I'm trying to clear out of my stock. (That's what clearance sales are usually for, right?) I'm down the my last three sold out of Copyright shirts, and Popcorn and Breakfast Club are dirt cheap.
ORIGINAL ART FOR SALE! If you loved the Shortpacked! guest strip (guest starring Jason!) I did a while back, you can bid on the original art — plus a color print of the finished strip — over on eBay! The bidding on this item ends tomorrow (Tuesday)! Aaaand sold!
Multiplex News & Updates
Bonus comics, drawings, and
other awesome stuff
Saturday, May 27, 2017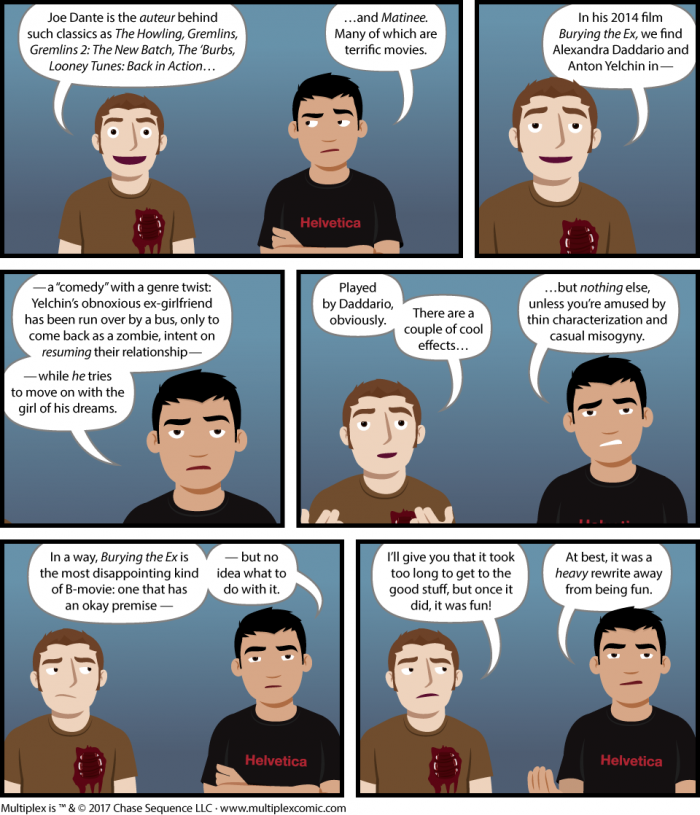 Hello, Multiplex readers!
A quick update on what's going on with everything Multiplex-related:
The storyboards for the Multiplex 10 animated short are DONE. Rough, but done. Pre-production continues for the next few weeks with the construction/editing/etc. of the first rough animatic and design/illustration work.
Although the Kickstarter project has ended, you can still support the project (or my comics work) by becoming a Patreon patron or making a one-time PayPal donation.
Multiplex: The Revenge (Book Three) is being shipped out to Kickstarter backers and will be available for purchase to everyone else on June 14th — as will the Multiplex mini-posters set.
I will be at Wizard World Philadelphia (Friday–Sunday only) with copies of Book Three, so if you're in that neck of the woods, you can get it a little early. :)
Multiplex Movie Reviews like this one, bonus comics from Multiplex: The Best Laid Plans (Book Four), and other stuff are being exclusively posted to Patreon a couple of times a week. Er, except for this one, obviously.
Other Recent Posts