Notes from the Manager
Related Strips: #565: What Price Victory?; #566: Do the Right Thing, Part One
I have a feeling a lot of you aren't going to get the Talk to Her reference. Talk to Her is a 2002 film by the Spanish writer-director Pedro Almodóvar, and it's a sublime film. Kiiinda disturbing in spots, but absolutely gorgeous. (Since we're still technically on Academy Awards night, I suppose it's relevant to mention the film earned Almodóvar a Best Original Screenplay Oscar, as well as a Best Director nomination.)
Hiccup is specifically referring to something in a black and white silent film within the film that you get a few glimpses of in the trailer. Even if you haven't seen the film, you might be able to figure it out from the trailer… heh
SEATTLEITES! I will be in your city this weekend for the 2011 Emerald City Comicon — as it says right over there in the left sidebar at the site under "Upcoming Events." Handy, huh? I'll be at table G-14 in Artist's Alley, as it says, so stop by and see me! I'll have books and a verrrry small handful of Michael Bay T-shirts, but I'll also be doing sketches and shaking hands and all the usual convention things.
Due to the con and some runnin' late, I'm afraid there will be an awesome guest strip up on Monday — I hope — but I'll be putting up my regular two updates on Wednesday and Friday instead.
SHIRTS ON SALE! I have a clearance sale on all of the T-shirts in my store at the moment. Copyright shirts have sold out (thank you!!), but the Workplace Romance, Popcorn and Breakfast Club are all $4.99 and even the über-popular Michael Bay is the Devil shirt is only $12.99.
There's a new T-shirt design up in the story — the Ozu's the Boss? T-shirt worn by Jason in Multiplex #555 is now available for PRE-ORDER at the bargain price of $14.99.
This is a much simpler design than the Michael Bay shirt, so we only need 12 orders by Thursday, March 10th, before I print them up (probably a 1–2 week turnaround) and ship 'em out. If you want 'em, order 'em — especially if you want a Ladies size or Men's 2XL or 3XL (and if you need a size not listed, just shoot me an e-mail and I can set that up for you), because I will not print many extras to keep on-hand. If we don't get the minimum 12 orders, all orders will be canceled and all payments refunded, 'cause the shirts won't get printed!

But wait! There's more!
Although Multiplex will be ending soon, thanks to readers like you on Patreon, the Multiplex 10 will stay open for business! I'll be posting bonus comics from future print collections, Multiplex Movie Review strips, updates on the upcoming Multiplex animated short, and, of course, other non-Multiplex stuff.
In addition to the warm, soothing feeling of being a patron of the fine art of comic strippery, Patrons get access to free Multiplex eBooks, sneak previews of upcoming comics and other behind the scenes peeks, sketch giveaways, and more!
You can also support Multiplex by shopping at the Multiplex store — or at Amazon via these affiliate links: United States | United Kingdom | Canada
Deleted Scenes Blog
Bonus comics, drawings,
movie trailers and more
Friday, February 17, 2017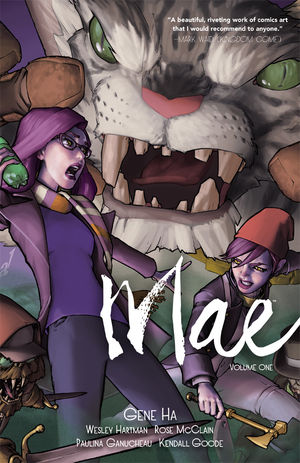 Heads up, completists. I have a three page story in the new Mae Volume One TPB from Dark Horse Comics. This is the same one I co-wrote (with Mae creator Gene Ha) and as a thank-you for backers of its original Kickstarter edition — and Dark Horse's editors decided to include the story in the back matter of this new collection, along with a bunch of other short stories by other great creators.
BUT… I have a story in a Dark Horse-published book! That's cool!
If you're not familiar with Mae, it's an all-ages adventure comic by Gene Ha (Top Ten and a billion other comics). Here's the official Dark Horse synopsis:
When she was just a girl, Abbie discovered a portal to a fantasy world and has since had great adventures there: defeating horrible monsters, power-mad scientists, and evil nobles. But when she turned twenty-one it all came apart and she decided to return home. Her sister, Mae, had no idea what happened to Abbie all this time, and Abbie's tales are too hard to believe—that is, until the monsters and other terrible creatures start to cross over to our world . . . Collects issues #1–#6.
I highly recommend it. It is a lot of fun. You can learn more about Mae Volume One on Amazon.
Other Recent Posts