Notes from the Manager
Alternate title (which was too long to use): "As If Millions of Cells Suddenly Cried Out in Terror and Were Suddenly Silenced." I was tempted to do something related to Captain America instead (because it's #616! heh) but decided against it.
As you're reading this, I'm back (or on my way back) to Minneapolis after a long weekend at the Chicago Comic Con. Thanks to everyone who came out to visit me and Tom in Artist's Alley! I'm sure it was an awesome show, but I'm writing this before I've even left for the con, so I don't really know yet.
The next con I'll be attending is the first Webcomics Con in Norwalk, Conn., on October 1–2, so if you're in New England, check that out. Other webcomics superstars (besides me) who will be there include T Campbell (The Guilded Age), Chris Hastings (Dr. McNinja), Scott Christian Sava (Dreamland Chronicles), and Greg Dean (Real Life) — so it should be pretty great.
I'm not sure what the update schedule will be like this week — two, at least. But possibly three, since I have to catch up from the move. Come back on Wednesday or Thursday or both or whatever. Or just keep your eyes peeled on the RSS feed, I guess.
UPDATE: I'm actually back from Chicago now, and it was a terrific show. Thanks again (for real this time) to everyone who came to see me, everyone who just happened to see me, and everyone else. If you're new to Multiplex, I strongly recommend starting from the beginning — or at least from the beginning of Book 5.
Oh, and the movie they're watching, in case you didn't know, is The Change-Up, starring Ryan Reynolds and Jason Bateman. It's been getting pretty dismal reviews, although audiences seem to be enjoying it more than critics. (Which is pretty normal for that kind of comedy.)
I've got some moving-related headaches to deal with today, but should be back on track with updates now. Thanks again to everybody who provided a guest strip over the last two weeks. I think we've seen the last of them for now; I'll try to get those added to the Guest Strips section of the site as soon as possible. Until then, you can always access them via the calendar in the left sidebar of the site.
Multiplex News & Updates
Bonus comics, drawings, and
other awesome stuff
Thursday, June 15, 2017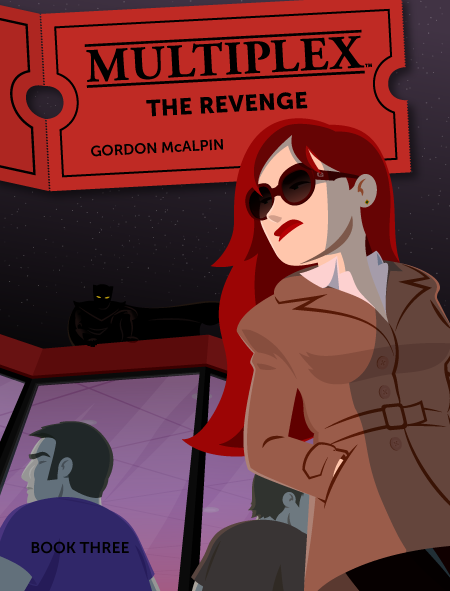 Multiplex: The Revenge (Book Three) is now available in the Multiplex Store! (Only regular/unsigned editions are available at this time; I'll add artist's editions once all of the Kickstarter rewards have been fulfilled.)
Multiplex: The Revenge collects chapters 11–15 of the series (strips #217–338, which ran from March 2008 to March 2009), plus over 30 bonus comics — including an all-new stories sets on opening night of The Dark Knight and Zack Snyder's Watchmen! If you miss Multiplex and would like to see more with these characters, the book collections are for you.
Head on over to the Multiplex Store and check it out today!
Other Recent Posts