Notes from the Manager
Related Strips: #648: Mortal Combat, Part One; #649: Mortal Combat, Part Two; #650: Mortal Combat, Part Three
My site hosts, Slicehost, went and got themselves bought and essentially shut down by Rackspace, so I've changed changed hosts yet again — this time to a relatively new company called 6sync. I can't give them an unqualified recommendation yet, since I've only used them for three days, but their pricing is fantastic and… so far so good.
We had a few hitches on Friday, neither of which 6sync is to blame for: the issues were partly because I deleted the old host prematurely (oops) and partly because a bot hacked into the site's database and screwed it all up, but I think everything is cleared up now…?
Anyway. I know I complain about the hand-drawn art a lot, so I suppose I should also mention that I'm really happy with the art in today's strip. See? I'm not down on my skillz all the time. (Granted, I retouched the hell out of the inks in Photoshop, but hey, the end result is the point, right?)
The reaction to the current arc has, really truly honestly, been overwhelmingly positive. In fact, it has been uniformly positive, and I've been having a blast doing it, even when I whine about the art not being as good as I see it in my head. Thanks, as always, for reading.
Multiplex News & Updates
Bonus comics, drawings, and
other awesome stuff
Saturday, July 1, 2017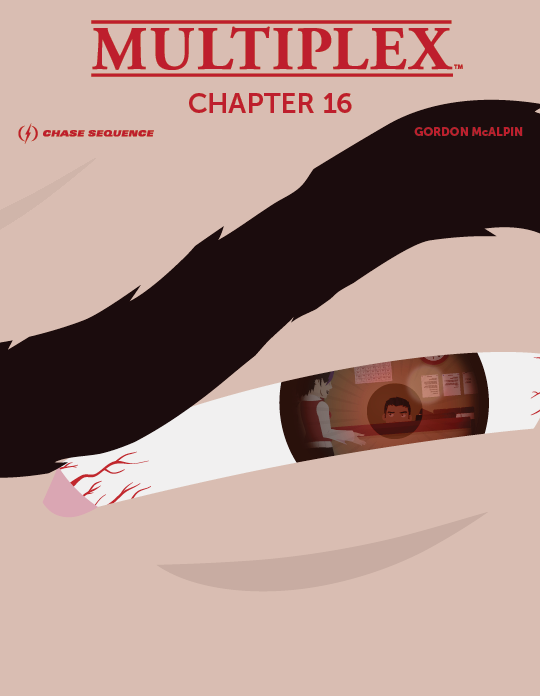 $3+ Patreon supporters get this one for free (until the next eBook is available), but for the rest of youse: The Multiplex: Chapter 16 eBook is now available!
Chapter 16 collects strips #339 –362 from the Multiplex archives, plus four bonus comics and one "extended scene" not found in the archives! Chapter 16 costs $1.99.
Supporting the Multiplex chapter eBooks helps make future Multiplex print collections possible. Thank you for your support!
Other Recent Posts