Notes from the Manager
Related Strips: #687: Insolence of the Dead; #688: Born for This
Thank you once again to everybody who backed the Book 2 Kickstarter project! I am incredibly grateful for your support and generosity!
Starting next week, I will work my ass off to deserve it by making the best book I can. And next weekI'll be issuing Book 2 updates primarily through the Kickstarter Updates feed (and web page)— although you can also follow me on Twitter, because the links will get posted there, too.
Sorry about the delay in opening up PayPal donations towards Book 2 (for those of you who have asked about that). Expect that on Monday or possibly sometime over the weekend.
I've been a little busy getting my ducks lined up for going to grad school in the fall (I've officially accepted a spot in the Graphic Design MFA program at the University of Minnesota now), and with one large freelance illustration project that I need to get polished off before I can start on Book 2. So, you know. Don't worry: there should be plenty of time to get Book 2 completely finished (reader for the printer, anyway) before school starts. And hopefully school won't get in the way of Multiplex… but we'll worry about that when we get there.
This arc will be continued, of course, on Monday. See you then!
Multiplex News & Updates
Bonus comics, drawings, and
other awesome stuff
Thursday, June 15, 2017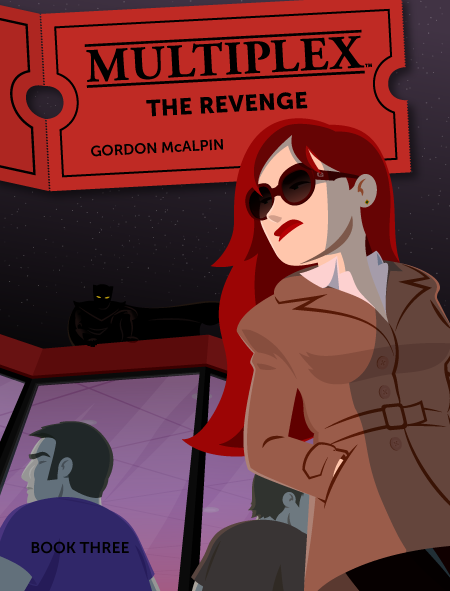 Multiplex: The Revenge (Book Three) is now available in the Multiplex Store! (Only regular/unsigned editions are available at this time; I'll add artist's editions once all of the Kickstarter rewards have been fulfilled.)
Multiplex: The Revenge collects chapters 11–15 of the series (strips #217–338, which ran from March 2008 to March 2009), plus over 30 bonus comics — including an all-new stories sets on opening night of The Dark Knight and Zack Snyder's Watchmen! If you miss Multiplex and would like to see more with these characters, the book collections are for you.
Head on over to the Multiplex Store and check it out today!
Other Recent Posts