Notes from the Manager
Related Strips: #740: Foxy Ladies; #741: Crack a Window; #742: She-Devils; #743: Love at First Sight; #744: Grudge Match; #745: Down Low, Too Slow
Just a reminder that we're not seeing all of the movie. This is one of those bits where I felt like I needed to skip over some parts of a longer sequence (i.e. Jason actually getting bit — sorry, I know some of you would have enjoyed that — and Kurt leading Zombie Melissa down the hall) in order to keep the flow moving for the comic strip. When I do get around to making the movie collection (probably as a 64-page black and white comic), this will certainly be a sequence I stretch out.
For those of you not up on your Shakespeare, Kurt's lines (and the title) are from the end of the balcony scene in Romeo & Juliet. They're actually Juliet's lines, though: "Sweet, so would I. / Yet I should kill thee with much cherishing. / Good night, good night! Parting is such sweet sorrow / That I shall say good night till it be morrow."
See you Monday!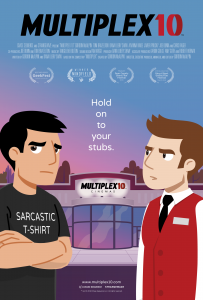 Multiplex 10 is here!
Although Multiplex 10 has ended, an animated prequel/reboot called Multiplex 10 was funded through Kickstarter in 2017 and is NOW AVAILABLE for rent or purchase on Vimeo On Demand, Amazon Video, and elsewhere! And an all-new, irregularly-updated Multiplex 10 web series (set after the short film) recently launched on YouTube! Learn more about the web series on the official Multiplex 10 website!
Stay up to date on all things Multiplex, Multiplex 10 and me (a.k.a. Gordon McAlpin) by subscribing to my newsletter!