Notes from the Manager
Related Strips: #740: Foxy Ladies; #741: Crack a Window; #742: She-Devils; #743: Love at First Sight; #744: Grudge Match; #745: Down Low, Too Slow
Just a reminder that we're not seeing all of the movie. This is one of those bits where I felt like I needed to skip over some parts of a longer sequence (i.e. Jason actually getting bit — sorry, I know some of you would have enjoyed that — and Kurt leading Zombie Melissa down the hall) in order to keep the flow moving for the comic strip. When I do get around to making the movie collection (probably as a 64-page black and white comic), this will certainly be a sequence I stretch out.
For those of you not up on your Shakespeare, Kurt's lines (and the title) are from the end of the balcony scene in Romeo & Juliet. They're actually Juliet's lines, though: "Sweet, so would I. / Yet I should kill thee with much cherishing. / Good night, good night! Parting is such sweet sorrow / That I shall say good night till it be morrow."
See you Monday!
Multiplex News & Updates
Bonus comics, drawings, and
other awesome stuff
Thursday, June 15, 2017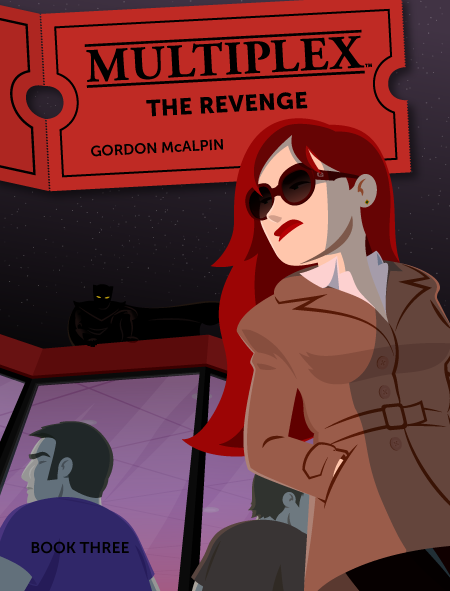 Multiplex: The Revenge (Book Three) is now available in the Multiplex Store! (Only regular/unsigned editions are available at this time; I'll add artist's editions once all of the Kickstarter rewards have been fulfilled.)
Multiplex: The Revenge collects chapters 11–15 of the series (strips #217–338, which ran from March 2008 to March 2009), plus over 30 bonus comics — including an all-new stories sets on opening night of The Dark Knight and Zack Snyder's Watchmen! If you miss Multiplex and would like to see more with these characters, the book collections are for you.
Head on over to the Multiplex Store and check it out today!
Other Recent Posts