Notes from the Manager
Chunks of this strip's dialogue were shamelessly stolen from a conversation I had with Tom Brazelton (Theater Hopper) and Brandon J. Carr earlier today on Twitter.
Obviously, it was about the RoboCop remake, the trailer for which is… right here:
One week of grad school down, 13-ish to go (this semester). If any of my drawing students, fellow grad students, or professors just read this strip after looking up Multiplex because I mentioned it in class, I just want to say, I'm sorry.
UPDATE: I hadn't planned on doing this, but since a couple of people have asked for Jason's "Movie Logo" T-shirt to become a real thing, so I've added it to the Multiplex Store. At this point, it's just 1's and 0's on a computer, so the rest is up to you! Make it real by buying one today!
Multiplex News & Updates
Bonus comics, drawings, and
other awesome stuff
Thursday, June 15, 2017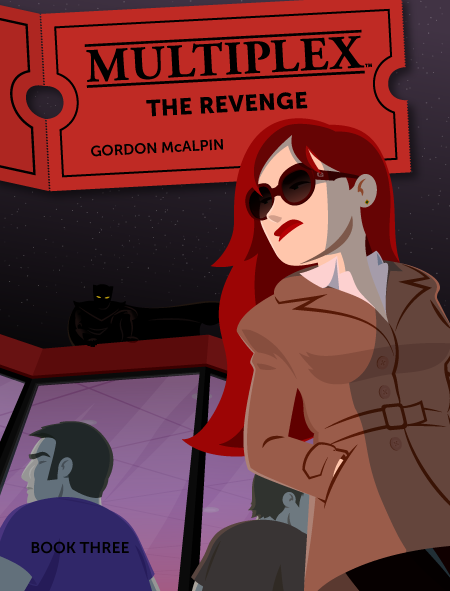 Multiplex: The Revenge (Book Three) is now available in the Multiplex Store! (Only regular/unsigned editions are available at this time; I'll add artist's editions once all of the Kickstarter rewards have been fulfilled.)
Multiplex: The Revenge collects chapters 11–15 of the series (strips #217–338, which ran from March 2008 to March 2009), plus over 30 bonus comics — including an all-new stories sets on opening night of The Dark Knight and Zack Snyder's Watchmen! If you miss Multiplex and would like to see more with these characters, the book collections are for you.
Head on over to the Multiplex Store and check it out today!
Other Recent Posts