Notes from the Manager
Related Strips: #384: Jargon Hunting
"Max" is actually Maximiliano Cárdenas III — and, no, I didn't make up that name. Max is actually one of the Kickstarter backers, who had arranged for a unique pledge incentive, namely becoming the model for a recurring character in the regular strip. (That mostly means this character was named after him and designed to look like him; otherwise, the character in not based on the real Max in any way. I have the broad strokes of the series planned waaaay out in advance, and what he asked for fit with a character I'd already planned to introduce but hadn't yet designed or named… although I'm sure it doesn't always look like it.)
Since he was a Kickstarter backer, as well, he'll appear in the Multiplex: Book 1 prequel story, where we get a brief glimpse of him as a Multiplex 10 employee, albeit in a costume for the Revenge of the Sith premiere.
With this and Thursday's strip, we're finishing up Chapter 21, and Chapter 22 will start next week. That means we're about 1/5 of the way through Book 5.
Multiplex News & Updates
Bonus comics, drawings, and
other awesome stuff
Saturday, July 1, 2017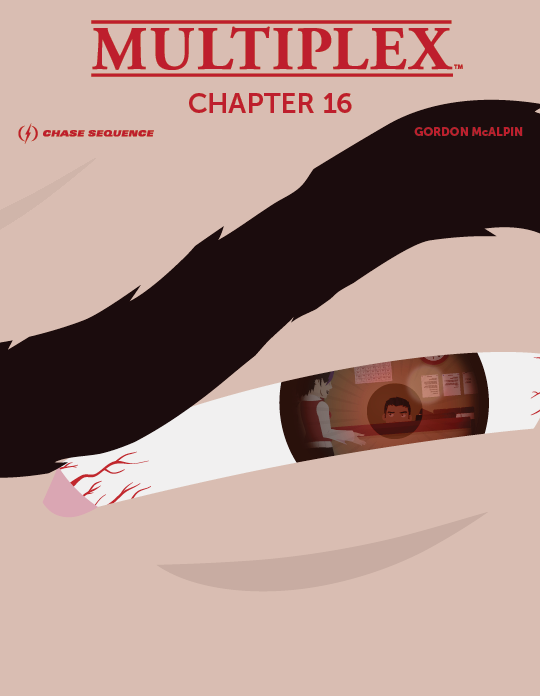 $3+ Patreon supporters get this one for free (until the next eBook is available), but for the rest of youse: The Multiplex: Chapter 16 eBook is now available!
Chapter 16 collects strips #339 –362 from the Multiplex archives, plus four bonus comics and one "extended scene" not found in the archives! Chapter 16 costs $1.99.
Supporting the Multiplex chapter eBooks helps make future Multiplex print collections possible. Thank you for your support!
Other Recent Posts